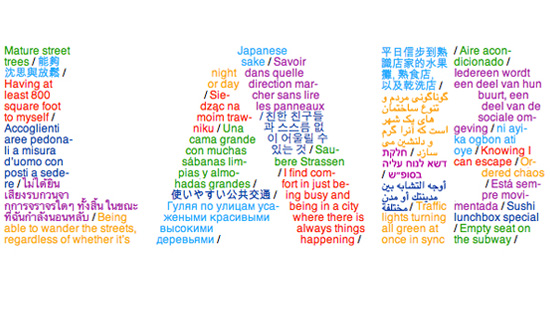 Roberta's to Operate Pop-Up Cafe at BMW Guggenheim Lab in New York City's East Village, August 3–October 16, 2011
NEW YORK, NY, August 2, 2011 — The Solomon R. Guggenheim Foundation has selected Roberta's as the manager and operator of the pop-up cafe at the inaugural BMW Guggenheim Lab, located at First Park, Houston at 2nd Avenue, a New York City Parks property. It will be a contemporary cafe, open Wednesdays–Sundays, August 3–October 16, 2011, serving visitors to the BMW Guggenheim Lab and the community.
Known for its innovative market-driven menu and its wood-fired pizzas, Roberta's opened in Bushwick, Brooklyn, in January 2008 and has since become a neighborhood institution, culinary destination, and growing catering operation.
"As an eatery that sources its food locally from its own rooftop greenhouse and artisanal bakery, Roberta's is an ideal partner for the BMW Guggenheim Lab," said David van der Leer and Maria Nicanor, the curatorial team for the BMW Guggenheim Lab. "The BMW Guggenheim Lab will be exploring innovative solutions for urban life, and we believe Roberta's active engagement with sustainability in the city dovetails perfectly with our mission."
"We are excited to be part of the BMW Guggenheim Lab, as it is an innovative initiative," said Eddie Diaz, a partner at Roberta's. "The East Village is a historically vibrant and important community, and we look forward to contributing to it."
Menu
Roberta's will serve its signature cheeseburgers, vegetarian sandwiches, seasonal salads, and Blue Bottle coffee for lunch and dinner, as well as a selection of desserts in collaboration with Christina Tosi of Momofuku Milk Bar. There will be counter service, as well as takeout.
Hours
Wednesdays–Fridays 1–9 pm
Saturdays and Sundays 10 am–9 pm
Design
Roberta's pop-up cafe will debut in First Park,
Houston at 2nd Avenue
, on August 3, 2011, the day the BMW Guggenheim Lab opens to the public. It will be adjacent to the main BMW Guggenheim Lab structure. Designed by Atelier Bow- Wow, the cafe structure references timeless timber construction that has commonly been used in both rural and urban settings. The cafe, which seats 42, will feature tables and chairs arranged on a patio area beneath a canopy.
About the BMW Guggenheim Lab
The BMW Guggenheim Lab is a public space for the exploration of ideas related to urban life. Housed in a mobile structure designed by the Tokyo architecture firm Atelier Bow-Wow, the BMW Guggenheim Lab launches in First Park,
Houston at 2nd Avenue
, a New York City Parks property. A Lab Team— comprising an environmental justice activist, an inventor, a journalist, and an architecture duo—will lead an investigation into innovative concepts and designs for city life in response to the theme Confronting Comfort. Over the next six years, the BMW Guggenheim Lab will travel to nine cities around the world in three successive cycles, each with its own theme and mobile structure. After opening in New York, the BMW Guggenheim Lab will travel to Berlin (spring 2012), in collaboration with ANCB Metropolitan Laboratory, and Mumbai (winter 2012–13). The Mumbai presentation will be organized in collaboration with the Dr. Bhau Daji Lad Museum. The first cycle will culminate with an exhibition at the Guggenheim Museum in New York, displaying the Lab's results and findings in these three venues.
The BMW Guggenheim Lab will be open in New York from August 3 to October 16, 2011, Wednesdays through Sundays. Admission and all events are free.
Join the conversation on Twitter with @BMWGuggLab and use #BGLab.
twitter.com/bmwgugglab
facebook.com/bmwguggenheimlab
youtube.com/bmwguggenheimlab
flickr.com/bmwguggenheimlab
foursquare.com/bmwgugglab
Contacts
For the complete press materials, go to bmwguggenheimlab.org/presskits
For publicity images and video, go to bmwguggenheimlab.org/pressimages
User ID = photoservice, Password = presspass
Tina Vaz
Solomon R. Guggenheim Museum
212 423 3840
This e-mail address is being protected from spambots. You need JavaScript enabled to view it
Melissa Parsoff
Ruder Finn
212 593 5889
This e-mail address is being protected from spambots. You need JavaScript enabled to view it
August 3, 2011
#1193/BGL6