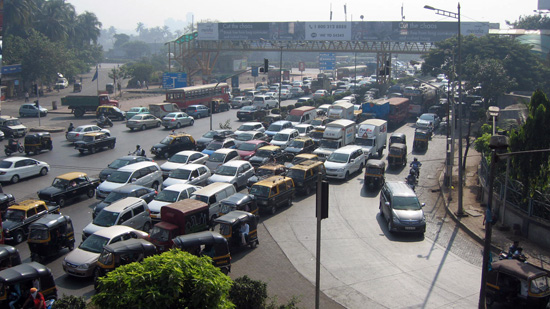 International Design Competition Seeks Bold Ideas that Reimagine Mumbai's Kala Nagar Traffic Junction
Open Call a Major Initiative of the BMW Guggenheim Lab Mumbai
Competition Overview
As part of the program for the BMW Guggenheim Lab Mumbai, the Solomon R. Guggenheim Foundation in collaboration with Mumbai Environmental Social Network (MESN) will launch "Rethinking Kala Nagar Traffic Junction," an international search for innovative proposals to redesign one of Mumbai's busiest transportation hubs. The competition will be administered by Lord Cultural Resources. The Kala Nagar traffic junction connects Island City to Mumbai's western suburbs through five main traffic arteries. It has one of the city's highest traffic volumes, with about 60,000 passengers per hour, both above and below the flyover, at peak times.
The competition challenges applicants to restructure the junction's traffic flow and explore ways to refit its infrastructure with new public space and pedestrian functions. Proposals should address the junction's specific issues and unique attributes while providing ideas that could be applied to traffic junctions throughout Mumbai.
The BMW Guggenheim Lab Mumbai will be open from December 9, 2012 through January 20, 2013. Presented in collaboration with the Dr. Bhau Daji Lad Museum, the Lab will be located at the Museum's plaza in Byculla and multiple locations throughout the city. Through a series of free programs and citywide projects, the Lab will explore opportunities related to public space and the choices Mumbaikars make to balance individual and community needs.
How to Apply
The competition is open to Indian and international participants, with entrants divided into two categories: students and professionals, including students enrolled in an undergraduate or master's program for architecture, urban planning/design, transport management, engineering or planning, and professionals working in those fields.
Submissions will be accepted from November 30, 2012 through January 3, 2013. Applicants are required to pre-register for the competition between November 15 and December 3. Participants are encouraged to submit proposals in interdisciplinary groups, but individual entries will also be accepted. Please visit bmwguggenheimlab.org for competition details and submission information.
Judging Process
A jury consisting of experts from Mumbai city agencies, traffic planning professionals, architects, and representatives from the Solomon R. Guggenheim Foundation, MESN, and other collaborators will choose twenty finalists. The jury will be announced in late December.
Shortlisted designs will be exhibited at the Lab from January 11 to January 18, 2013. On January 18, the Lab will host a panel discussion about proposals with select jury members, additional experts, and community members, and will announce the winners. As with all Lab events, this panel discussion is free and open to the public.
Honoraria
Students: First Place, INR 50,000. Second Place, INR 40,000. Professionals: First Place, INR 85,000. Second Place, INR 70,000. "People's Choice" (selected from either category): INR 15,000.
Full competition details and submission guidelines can be downloaded from the BMW Guggenheim Lab website at: bmwguggenheimlab.org/whatshappening/ mumbai-lab-city-projects.
About the BMW Guggenheim Lab
The BMW Guggenheim Lab is a co-initiative of the Solomon R. Guggenheim Foundation and the BMW Group. Part urban think tank, part community center and public gathering space, the BMW Guggenheim Lab is a pioneering global initiative aimed at raising awareness of important urban challenges and inspiring an ongoing conversation in cities around the world. In addition to participating in programs at the Lab sites, the public is invited to visit the website, join the dedicated online social communities on Twitter (@BMWGuggLab and #BGLab), Facebook, YouTube, Flickr, and Foursquare, and to subscribe to the Lab's e-newsletter for the latest project updates.
About MESN
Mumbai Environmental Social Network (MESN) is a registered non-governmental organization established in 2005. MESN is devoted to traffic discipline and management in Mumbai. Learn more at mesn.org.
About Lord Cultural Resources
Lord Cultural Resources is a global professional practice dedicated to creating cultural capital worldwide. For more information, visit lord.ca/india.
Contacts
Kate Lydecker, Polskin Arts & Communications Counselors
1 212 715 1602
This e-mail address is being protected from spambots. You need JavaScript enabled to view it
Zeenat Duberia, Ruder Finn India
+ 91 916 7577 467
This e-mail address is being protected from spambots. You need JavaScript enabled to view it