Talk
Friday, July 13, 2012, 7:30 pm–9:30 pm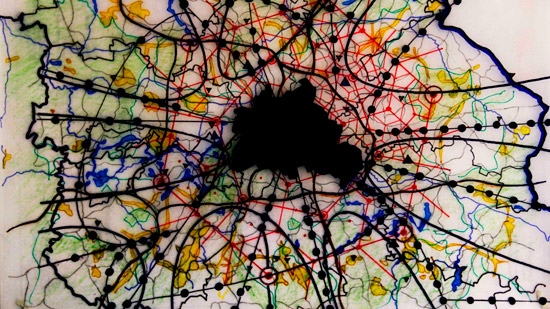 "Designing the Social City" is a panel discussion that follows two prior lectures: first, Andres Lepik's introduction to socially responsible architecture and why architecture has such an all-encompassing impact on social realities; second, Christian von Scheve's talk about dimensions of social inequality and its consequences.
This discussion zooms in to discuss and analyze the hotspots of social responsibility for Berlin, such as Liegenschaftsfond's politics and its problematic agenda, mounting rents, and displacement of inhabitants from the inner city, and the increasing number of social welfare-dependent citizens and their unacceptable living conditions.
The panel is organized by Florian Schmidt & Jürgen Breiter.
This program is in German with English translation.
Artwork: by Maurice de Martin
Beschlüsse des Abgeordnetenhauses und der Koalitionsvertrag der Berliner Regierung fordern bezahlbare Mieten und eine neue Liegenschaftspolitik für Berlin. Eine Rahmenstrategie für die "Soziale Stadt" ist jedoch nicht in Sicht und die Umsetzung des Abgeordnetenhausbeschlusses zur Liegenschaftspoltik von 2010 fällt der Regierung nach wie vor schwer.
Ein weiterhin ungebremster Ausverkauf des städtischen Eigentums ist die Folge. Warum braucht Politik so lange hier weitsichtige Weichenstellungen vorzunehmen? Welche konkreten Maßnahmen sind geplant und welchen Beitrag leisten diese zur langfristigen Gestaltung der soziale Stadt? Welche Rolle spielt in diesem Gestaltungsprozess der Dialog mit der Zivilgesellschaft?
Vorangestellt ist der Debatte ein Bericht von den Foren zur Liegenschaftspolitik am Nachmittag in Form einer Pressemitteilung der Initiative Freespace Berlin - Berliner Liegenschaften – www.freespaceberlin.org
Es diskutieren:
Volker Hassemer (Vorstand Stiftung Zukunft Berlin)
Prof. Barbara John (Vorstand Paritätischer Wohlfahrtsverband, Berlin)
Ephraim Gothe (Staatssekretär für Stadtentwicklung und Umwelt)
N.N. (Senatsverwaltung für Finanzen)
N.N. (Berliner Mieterverein e.V.)
Artwork: by Maurice de Martin
Related events
ähnliche Veranstaltungen