Saturday, September 24, 2011, 11–6 pm
Special Event, Good for Families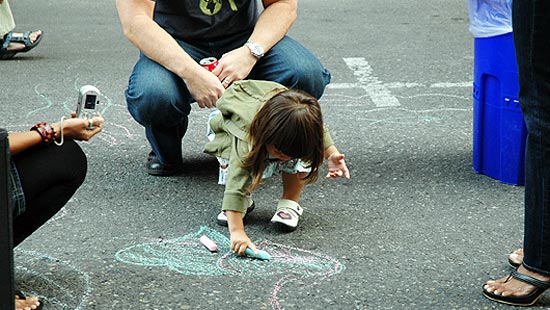 An annual tradition for over 15 years, the First Street Block Party is an event that brings together neighbors and friends of the block for a day of fun and festivities. Come celebrate this year at a special edition of the block party as the BMW Guggenheim Lab joins in on the fun.
This year's event will offer attendees an opportunity to try various foods (including chicken served by a resident of First Street who has made chicken for the annual block party since 1979), purchase goods from a diversity of vendors,* and enjoy live music on First Street between First and Second Avenues. Music will be performed by a variety of artists representing a diversity of styles, including jazz, soul, rock and roll, hip-hop, and R&B. The tunes will set the tone for the day as the yearly First Street Block Association flea market is joined by a host of new sellers. Vintage clothing, original artwork, jewelry, custom hats, pottery, textiles, sweets, and stationery are just a few of the offerings. The musicians will also have CDs for sale, and Frank 151 Magazine will be giving out magazines and stickers.
Come take part in a celebration of this gem of a street, and see what this neighborhood is all about.
*All proceeds from vendor fees will be donated by the Block Association to a local cause.
Photo: used by permission under Creative Commons Attribution-Share Alike 2.0 License from Art Institute of Portland
Related Events