Tour
Sunday, July 22, 2012, 12 pm–4 pm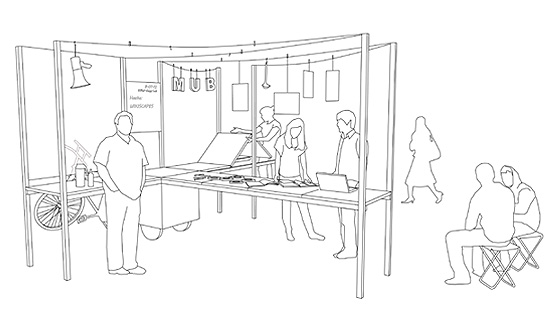 Join a weekly walking tour that seeks to bring learning out of the classroom and into the streets. Led by members of Urbanophil and mikromakro, the Mobile University of Berlin provokes participants to mine their urban environment through acting, mapping and collecting data, and using photography, video, and audio, all related to a particular theme. Participate in self-education exercises like defining public space, interacting with strangers, and storytelling.
Urbanophil is a nonprofit organization, blog, and Berlin-based network of urban planners, architects, artists, and community members who explore issues of urban life together.
mikromakro is an informal project-based network of people from various fields, including urban planning, arts, sociology, ecology, economy, law, administration, and education, with a shared interest in alternative methods of perception of and education in public spaces.
This program is in German.
Illustration: by Stiftung Freizeit
Nehmen Sie an einem wöchentlich stattfindenden Rundgang teil, der das Lernen aus dem Kontext des Klassenzimmers löst und auf der Straße erlebbar macht. Von Urbanophil- und mikromakro-Mitgliedern angeleitet, fordert die Mobile University of Berlin die Teilnehmer heraus, ihre urbane Umgebung durch Schauspiel, Mapping, das Erfassen von Daten sowie Fotografie, Video und Audio im Hinblick auf ein bestimmtes Thema zu ergründen. Nehmen Sie an autodidaktischen Übungen teil, die sich beispielsweise mit der Definition des öffentlichen Raums, der Interaktion mit Fremden und Storytelling beschäftigen.
Urbanophil ist eine in Berlin ansässige gemeinnützige Organisation mit einem Blog und ein Netzwerk von Städteplanern, Architekten, Künstlern und Gemeindemitgliedern, die gemeinsam Themen des urbanen Lebens erforschen.
mikromakro ist ein informelles, projektbasiertes Netzwerk von Personen aus unterschiedlichen Fachbereichen wie Stadtplanung, Kunst, Soziologie, Ökologie, Wirtschaft, Recht, Verwaltung und Bildung, die ein gemeinsames Interesse daran haben, alternative Methoden zur Wahrnehmung des öffentlichen Raums mit entsprechenden Bildungsangeboten zu entwickeln.
Diese Veranstaltung findet in deutscher Sprache statt.
Illustration: von Stiftung Freizeit
Related events
ähnliche Veranstaltungen