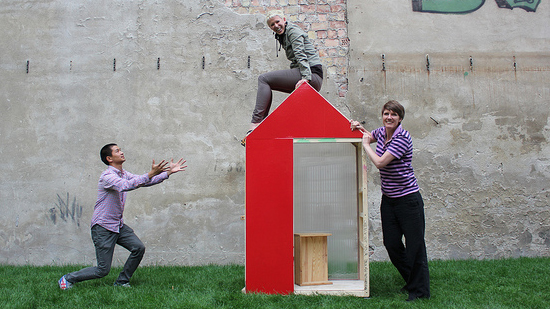 Lab | Log, the BMW Guggenheim Lab's blog, takes part in the global conversation about urban ideas, discussing topics related to architecture, urban planning, art, design, science, technology, and sustainability.
Launched in August, 2011, the blog has featured interviews with such luminaries as Richard Florida and architect Teddy Cruz, and has also presented a number of article series on a range of compelling topics: following the Lab's stay in New York, the blog presented "Lab Notes I," a series encapsulating lessons from the New York Lab; a collaboration with GOOD produced five innovative proposals from international submitters for improving public space; and writer Christine McLaren's account of her trip via container ship from New York to Berlin dealt with the Lab's theme of Confronting Comfort in the context of her own challenging and unusual experience crossing the Atlantic. A series of articles based on the Lab's 100 Urban Trends glossaries focuses on specific "trends" and delves into the urban issues that shape our lives.
The Lab's resident writer, Christine McLaren, has been the primary author of the blog, which has also included articles by a range of guest contributors. McLaren is a freelance journalist who investigates solutions to urban problems. Her writing and research explores how the shape of our cities and urban policies impact the lives and behavior of those living in them and how shifting social, environmental, and economic climates are changing our relationship with the urban fabric. As a researcher, she has worked with authors such as award-winning Canadian journalist Charles Montgomery, and National Geographic Emerging Explorer Alexandra Cousteau. Based in Vancouver, she has written for publications such as Monocle, Spacing, and Metropolis, and has reported for numerous prominent print, online, and television news outlets around the world. 
Photo: Maria Nicanor