Back to calendar
Zurück zum Kalender
Matthias Ballestrem: the Unconscious Perception of Architecture
Matthias Ballestrem und Robert Gaschler: Die unbewusste Wahrnehmung von Architektur
Talk
Wednesday, July 11, 2012, 6 pm–7:30 pm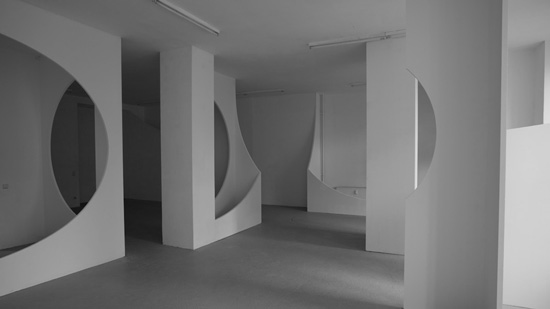 For the most part, interaction with our environment does not need our attention. Through constant involuntary and unconscious dialogue, our minds shape the environment. In turn, the environment shapes our ability to interact with it. These processes are at the core of our spatial experience. From a citywide scale down to an architectural detail, our environment can be read and designed as a modulation of potential perceptual processes. Consider your surroundings through a new lens as Matthias Ballestrem and Robert Gaschler discuss the unconscious perception of architecture.
Matthias Ballestrem is an architect living and working in Berlin. He was trained in Berlin and received a Fulbright scholarship to SCIArc in Los Angeles in 1999. He has worked for several architecture offices in Germany and abroad. From 2002 to 2005 he was working for Barkow Leibinger Architects. During his time there, he led the competition team and was part of the Trutec-Building design team. Currently, he is assistant professor in the department of architecture at the Berlin Institute of Technology. Matthias has served as a guest juror at various institutions, including the GSD.
This program is in German.
Photo: courtesy Matthias Ballestrem
Zum großen Teil benötigt das Zusammenspiel mit unserer Umwelt nicht unsere Aufmerksamkeit. Durch ständigen unfreiwilligen und unbewussten Dialog formt unser Verstand die Umwelt. Im Gegenzug formt die Umwelt unsere Fähigkeit mit ihr zu interagieren. Diese Prozesse liegen im Kern unserer räumlichen Erfahrung. Vom Großstadtmaßstab bis hin zu einem architektonischen Detail kann unsere Umwelt als eine Modulation von möglichen Wahrnehmungsprozessen gelesen und entworfen werden. Betrachte Deine Umgebung durch eine neue Linse, während Matthias Ballestrem und Robert Gaschler die unbewusste Wahrnehmung von Architektur erörtern.

Matthias Ballestrem ist ein Architekt, der in Berlin wohnt und arbeitet. Er wurde in Berlin ausgebildet und erhielt 1999 ein Fulbright Stipendium für die SCIArc in Los Angeles. Er hat für mehrere Architekturbüros in Deutschland und im Ausland gearbeitet. Von 2002 bis 2005 war er für Barkow Leibinger Architekten tätig. Während seiner Zeit dort führte er das Wettbewerbsteam und war Teil des Trutec-Building Design Teams. Momentan ist er Assistenzprofessor im Fachbereich Architektur an der Technischen Universität Berlin. Matthias hat als Gastjuror an diversen Einrichtungen, einschließlich der GSD, gewirkt.

Robert Gaschler arbeitet seit August 2010 als Postdoc in der Gruppe "Volition und Motivation" des Forschungsbereichs Mind & Brain. Zudem arbeitet er als Dozent und in Forschungsprojekten mit Peter A. Frensch am Institut für Psychologie der Humboldt-Universität. Er hat an der Humboldt-Universität Psychologie studiert und an der International Max Planck Research School on the Life Course promoviert. Dabei hat er daran gearbeitet, Strategiewechsel beim Fertigkeitserwerb zu verstehen und Maße für willkürlichen Strategiewechsel zu finden. Seit der Promotion gilt sein besonderes Forschungsinteresse der Frage, wie Menschen verbale Instruktionen in Handlungen umsetzen. Sein Forschungsschwerpunkt ist das Schnittfeld von Lernen und Handlungssteuerung.

Foto: courtesy Matthias Ballestrem

Related events
ähnliche Veranstaltungen