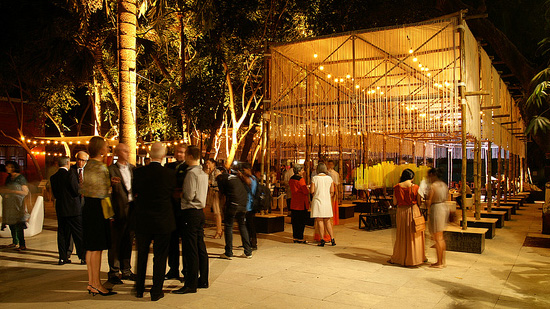 Part urban think tank, part community center and public gathering space, the BMW Guggenheim Lab is a global project aimed at raising awareness of important urban challenges and inspiring an ongoing conversation in cities around the world. Led by international, interdisciplinary teams of emerging talents in the areas of urbanism, architecture, art, design, science, technology, and sustainability, the Lab addresses issues of contemporary urban life through programs, projects, and public discourse. Its goal is the exploration of new ideas, experimentation, and, ultimately, the creation of forward-thinking solutions for urban life.
Launched in New York (August 3–October 16, 2011) with a focus on the theme of Confronting Comfort, the Lab traveled to Berlin (June 15–July 29, 2012), where the programming emphasized active citizen participation in shaping cities. It then opened at multiple sites in Mumbai (December 9, 2012–January 20, 2013), where projects and programs explored perceptions of privacy and public space.
The Lab is organized around the theme Confronting Comfort—exploring notions of individual and collective comfort and the urgent need for environmental and social responsibility. This exploration will conclude with an exhibition presented at the Solomon R. Guggenheim Museum in New York in October, 2013. Participatory City: 100 Urban Trends from the BMW Guggenheim Lab (October 11, 2013-January 5, 2014) will spotlight major themes and ideas that emerged from Lab in each of its three locations. The exhibition will include contributions from a global roster of architects, academics, designers, and artists, in an exclusively digital installation featuring drawings, sketches, short videos, and renderings.
Photo: UnCommonSense