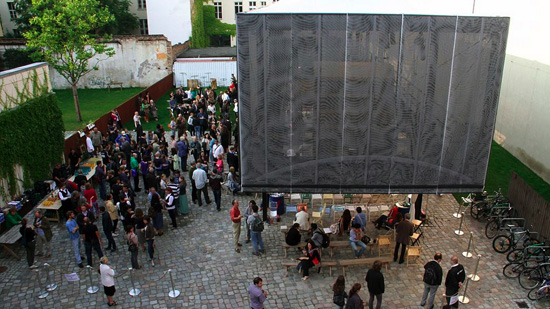 From June 15 to July 29, 2012, the BMW Guggenheim Lab was open in Berlin, the second stop on the project's global tour. Located in Prenzlauer Berg in the Pfefferberg complex, the Berlin Lab presented free, participatory programs that explored issues of urban life, with a focus on the importance of "doing and making" to activate change. The Berlin Lab's ninety-seven talks, one hundred one workshops, fourteen screenings, five special events and twenty-seven city-wide explorations offered practical ways to empower residents with tools and ideas for shaping their urban environments.
These wide-ranging programs were developed by Berlin Lab Team members José Gómez-Márquez, Carlo Ratti, Corinne Rose, and Rachel Smith, together with Guggenheim curator Maria Nicanor, around the theme of Confronting Comfort. Programs included prototyping workshops organized by José; a showcase of city transformation projects led by Rachel; talks about psychology and cities as well as a panel discussion on the controversial Berlin land policy known as the Liegenschaftspolitik, organized by Corinne; and discussions about "sense and the city" and the importance of temporary architecture led by Carlo.
In addition, the Berlin Lab jump-started three projects that will continue to develop after the Lab's departure from Berlin: an interactive biking map of Berlin; a mobile workshop and online map researching publicly owned lots in Berlin to solicit resident feedback on future uses; and a neighborhood garden project. 
"Berlin has a deeply rooted system of citizen participation that has had a profound effect on every aspect of the BMW Guggenheim Lab," says Maria Nicanor. "We have had the opportunity not only to discuss some of the key urban topics for Berlin but also to work with local groups to advance a variety of practical projects that we hope will benefit Berliners in the months and years to come."
In a joint statement, the Berlin Lab Team also commented on the valuable relationship that grew between the Lab and Berlin's citizens throughout the six weeks of programs: "It has been immensely rewarding to have worked and spoken with Berliners of all viewpoints and backgrounds, and to explore their ideas for addressing the challenges cities face today. Their participation has been an asset to our work and to all of the programs at the Lab, which could not have happened without their help."
To learn more about the Berlin Lab's concepts and programs, see 100 Urban Trends: A Glossary of Ideas from the BMW Guggenheim Lab Berlin.
The BMW Guggenheim Lab Berlin was presented in cooperation with ANCB The Metropolitan Laboratory.
Photo: by Luke Abiol
© 2012 Solomon R. Guggenheim Foundation, New York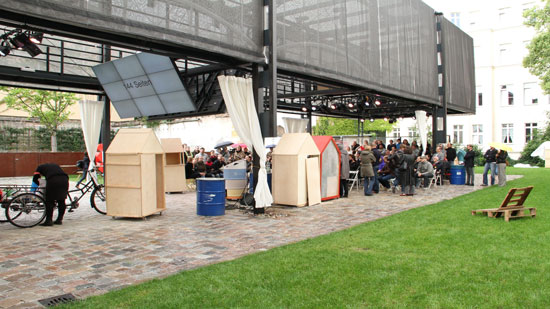 Vom 15. Juni bis zum 29. Juli 2012 war das BMW Guggenheim Lab in Berlin geöffnet. Das Berliner Lab befand sich im Pfefferberg Komplex im Stadtteil Prenzlauer Berg und präsentierte kostenlose, partizipatorische Programme, die Themen des urbanen Lebens beleuchteten und einen Fokus auf die Bedeutsamkeit des "Anfertigens und Machens" legten, um Veränderungen anzuregen. Die 97 Gespräche, 101 Workshops, 14 Filmvorführungen, 5 Sonderveranstaltungen und 27 stadtweiten Exkursionen des Berliner Labs zeigten Wege und Möglichkeiten, Bürgern Ideen und Fertigkeiten zur Gestaltung der städtischen Umwelt zu vermitteln.
Diese weitreichenden Programme wurden von den Lab Team Mitgliedern José Gómez-Márquez, Carlo Ratti, Corinne Rose, und Rachel Smith, zusammen mit Guggenheim Kuratorin Maria Nicanor, rund um das Thema Confronting Comfort: Ideen für die Großstadt entwickelt. José Gómez-Márquez organisierte beispielsweise Prototyping-Workshops, während Rachel Smith einen Überblick über Stadtumbauprojekte gab. Corinne Rose beschäftigte sich in ihrem Programm mit der psychologischen Dimension von Städten und der Diskussion über die kontroverse Berliner Liegenschaftspolitik. Carlo Ratti sprach beispielsweise über Sensoren in der Stadt oder temporäre Architektur.
Das Berliner Lab brachte außerdem drei Projekte auf den Weg, die sich auch nach der Abreise des Labs weiterentwickeln werden: eine interaktive Fahrradkarte von Berlin; ein mobiler Workshop und eine Onlinekarte, die öffentliche Grundstücke in Berlin lokalisieren und um Vorschläge der Bürger für deren zukünftige Nutzung bitten sowie ein Nachbarschafts-Garten-Projekt. 
"Berlin hat ein gut verankertes System der Bürgerbeteiligung, das starke Auswirkungen auf jeden Aspekt des BMW Guggenheim Lab hatte" sagt Maria Nicanor. "Wir hatten nicht nur die Möglichkeit, über einige der entscheidenden urbanen Themen für Berlin zu diskutieren, sondern auch die Gelegenheit, mit lokalen Gruppen zu arbeiten, um eine Vielfalt praktischer Projekte voranzutreiben. Wir hoffen, dass die Berliner in den kommenden Monaten und Jahren davon profitieren werden."
In einer gemeinsamen Erklärung berichtet das Berliner Lab Team  von den wertvollen Verknüpfungen, die während der sechs Programmwochen zwischen dem Lab und den Bürgern Berlins gewachsen sind: "Es war unwahrscheinlich fruchtbar mit Berlinern aller Standpunkte und vielfältiger Herkunft gesprochen zu haben und ihre Meinungen zu den großen städtischen Herausforderungen unserer Zeit kennenzulernen. Ihre Teilnahme war ein wichtiger Beitrag zu unserer Arbeit und zu all den Programmen des Labs, die ohne ihre Hilfe nicht hätten stattfinden können.
Mehr über die Konzepte und Programme des Berliner Lab erfahren Sie in den "100 Urban Trends: A Glossary of Ideas from the BMW Guggenheim Lab Berlin," einer Sammlung der 100 meist diskutierten Trends, Schlagwörter und Ideen zum Thema städtisches Leben heute.
Das BMW Guggenheim Lab Berlin wurde in Kooperation mit ANCB The Metropolitan Laboratory präsentiert.
Foto: von Luke Abiol
© 2012 Solomon R. Guggenheim Foundation, New York