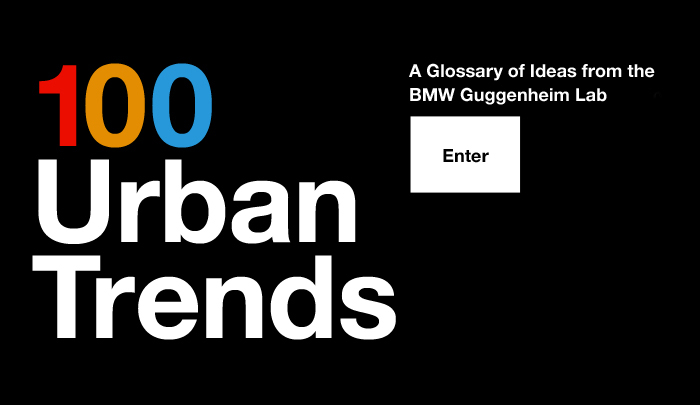 From June 15 through July 29, 2012, the BMW Guggenheim Lab Berlin offered thirty-three days of free programs, including workshops, screenings, and tours, and implemented urban projects in Berlin neighborhoods and online—all centered around the topic of life in cities today. 100 Urban Trends: A Glossary of Ideas from the BMW Guggenheim Lab Berlin collects 100 of the most talked-about trends in urban thinking, all of which played a role during the Lab's stay in the German capital.

The compilation of these terms creates a new resource for understanding the way people relate to and live in cities and is intended to advance the concept of the city as a catalyst for ideas. In addition to the Berlin edition of 100 Urban Trends, the Lab also produced glossaries connected to its New York and Mumbai presentations. What do people talk about when they discuss the future of cities today? Explore the glossaries for New York, Berlin, and Mumbai and find out.
100 Urban Trends was written by Lab curator Maria Nicanor, curatorial assistants Amara Antilla and Stephanie Kwai, and the Lab's resident writer, Christine McLaren.