Thursday, October 6, 2011, 1–4 pm
Workshop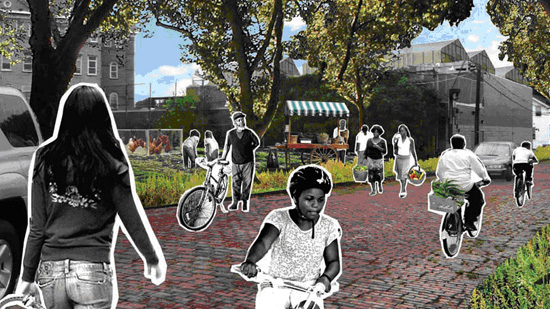 Above: "From the Ground Up"
How can cities prepare for shocks and stresses such as peak oil, freak weather, and deepening economic turmoil? Greg Greene, director of the documentary The End of Suburbia (2004) and the ResilientCity Project, hosts a two-part exploration of urban resilience.
1 pm
Explore how New Yorkers can build resilience and thriving communities between now and 2030, with Michael Haggerty and Raj Kottamasu (winners of the 2010 ResilientCity.org Design Ideas Competition), Dan Miner (Beyond Oil NYC), and Anne Pope (Sustainable Flatbush).
2:30 pm
Resilient Lower East Side: Take part in an interactive workshop to explore how the East Village can build resilience toward a thriving, fair, and comfortable 2030. Moderated by Greg Greene and Crowdbrite inventor Darin Dinsmore.
Image: courtesy Michael Haggerty and Raj Kottamasu
Related Events