Event
Thursday, July 12, 2012, 6 pm–9:30 pm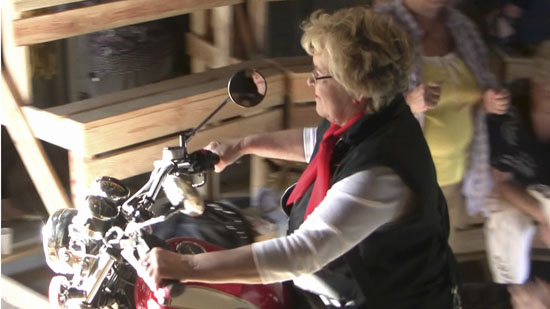 Oh boy, we're getting old! Society and city dwellers are getting older and older, though we still seem to ignore the changes and the potential of intergenerational encounters. We invite you to an ageless happening full of conversations, exchange, and shared experiences to carefully approach these questions. The evening is hosted by Lab Team member Corinne Rose, Andreas Greiner, and Julian Francis Bisesi. As psychologists, artists, and theater people, they already have created and staged experiences with and for all ages.
There should be many things to share between old and young. However, it feels as if a fruitful intergenerational exchange is a challenge to most big-city dwellers. Are there intergenerational relationships beyond familial relations or at a professional level? Why aren't there more friendships, consultancy relationships, or shared experiences between old and young? How much comfort would we gain by hearing a wise person's intelligent words and benefitting from a stranger's life experience? Would it ease our everyday lives to listen to someone significantly older or younger than us? And do the categories of old and young even exist in a society allegedly striving for eternal youth?
This program is in German with English translation.
Photo: by Andreas Greiner
Oh man, wir werden alt! Gesellschaft und Stadtbewohner werden älter und älter, wir scheinen jedoch die Veränderungen und das Potenzial von generationsübergreifenden Begegnungen zu ignorieren. Wir laden auf ein altersloses Ereignis voller Gespräche, Austausch und gemeinsamen Erlebnissen ein, um diese Fragestellungen mit Vorsicht anzugehen. Dieser Abend wird durch Lab Team Mitglied Corinne Rose, Andreas Greiner und Julian Francis Bisesi ausgerichtet. Als Psychologen, Künstler und Theaterleute habe sie bereits Erlebnisse mit und für jedes Alter geschaffen und inszeniert.
Es sollte viele Dinge geben, die zwischen Alt und Jung zu teilen sind. Dennoch fühlt es sich so an, als wäre ein fruchtbarer generationsübergreifender Austausch eine Herausforderung für die meisten Großstadtbewohner. Gibt es generationsübergreifende Verbindungen über die familiären Beziehungen hinaus oder auf einer professionellen Ebene? Warum gibt es nicht mehr Freundschaften, beratschlagende Beziehungen oder gemeinsame Erlebnisse zwischen Alt und Jung? Wie viel Entlastung würden wir durch das Hören auf die intelligenten Worte einer weisen Person gewinnen; die Lebenserfahrung eines Fremden nutznießen? Würde es unseren Alltag erleichtern, wenn wir auf jemanden hörten, der bedeutend älter oder jünger ist als wir? Und existieren die Kategorien alt und jung überhaupt in einer Gesellschaft die angeblich nach ewiger Jugend eifert?
Foto von: Andreas Greiner
Related events
ähnliche Veranstaltungen