Event
Saturday, July 14, 2012, 8 pm–9:30 pm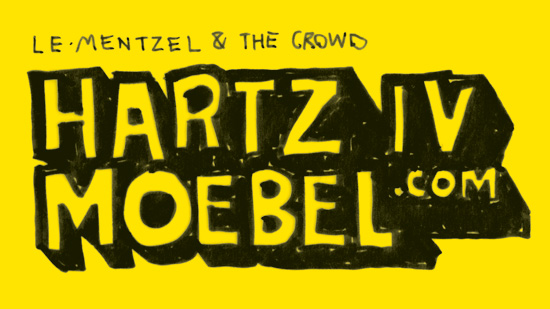 Celebrate the book release of Van Bo Le-Mentzel, introduced by Cristina Steingräber of Hatje Cantz Verlag, at the Lab, and join us for a crowdscanning party with PeopleHunt .
After Le-Mentzel's talk on "karma economy," we are celebrating the release of his crowd-funded book. What do you need and what do you have to offer? What do you want to exchange? Are you looking for somebody with whom you can discuss philosophy? Do you need a contact in China? Are you looking for an apartment, or someone to share dog-walking time or a garden? Whatever you are looking for, your neighbor or a complete stranger nearby might have it. However, it often seems complicated to uncover this potential and to connect to people in the enormity of our current metropolises.
PeopleHunt is a smartphone scavenger hunt for people in a crowd. Answer questions on topics that matter to you and play as you get matched with another player. All matches are between people who are playing at the same time, so you can find each other at a clue location within the Lab. Find a botanist, have conversations about city planning, learn more about gentrification, or track down a juggling fanatic.
Facilitated by PeopleHunt's Adrian Mont, watch a live feed of Peoplehunt's happening throughout the night, get insights into the interests that connect people, and talk face-to-face about what's important to you.
Hartz IV Moebel.com by Van Bo Le-Mentzel
Published by Hatje Cantz Verlag
This program is in German.
Photo: courtesy Van Bo Le-Mentzel
Feiern Sie mit uns das neue Buch von Van Bo Le-Mentzel: Hartz IV Moebel.com! Nach der Einführung von Cristina Steingräber (Hatje Cantz) feiern wir die Veröffentlichung mit dem Autor, dem Verlag und einer "crowdscanning party" mit PeopleHunt.
Was braucht man und was kann man geben? Was möchten Sie tauschen? Suchen Sie nach jemandem, mit dem Sie über Philosophie sprechen können? Brauchen Sie einen Kontakt in China? Suchen Sie nach einer Wohnung oder eher nach jemandem, mit dem Sie gemeinsam den Hund ausführen oder einen Garten teilen können? Wonach auch immer Sie suchen, Ihr Nachbar oder ein völlig Fremder in der Nähe könnte es haben. Allerdings scheint es oft schwer zu sein, dieses Potenzial zu entdecken und mit anderen in Kontakt zu treten.
PeopleHunt ist eine Smartphone Schnitzeljagd für Menschenmengen und vereinfacht dieses Tauschen. Beantworten Sie Fragen, die Sie bewegen und spielen Sie mit einem zugeteilten Partner. Alle Spiele finden zwischen gleichzeitig spielenden Teilnehmern statt, so dass man sich an einem Treffpunkt im Lab verabreden kann. Finden Sie einen Botaniker, erfahren Sie mehr über Stadtforschung oder spüren Sie einen Jongliernarren auf.
Adrian Monterrubio von PeopleHunt wird einen Live-Feed einrichten, der während des ganzen Abends öffentlich Einblick in die Such- und Tauschaktivitäten ermöglicht.
Hartz IV Moebel.com von Van Bo Le-Mentzel
Erschienen bei Hatje Cantz
Foto: courtesy Van Bo Le-Mentzel
Related events
ähnliche Veranstaltungen