Workshop
Thursday, July 19, 2012, 3 pm–7 pm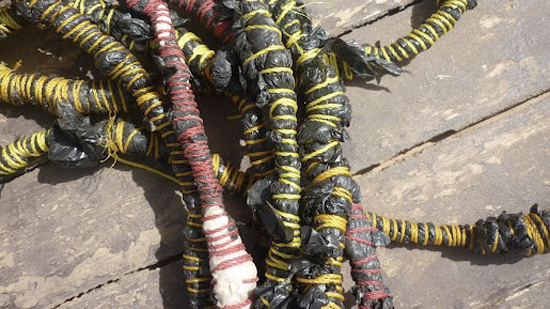 We all think we know what our waste looks like, but, in fact, a large part of it is invisible. Uncover and visualize the hidden processes and consequences associated with individual waste objects. Consider an apple, which apparently has no waste at all. However, if we count the bag in which we carry it home, the paper towel that we use to dry it, and the crate that is used to store and transport it, the footprint of that consumable item is much greater than it seems. Join in as we collaboratively confront our own trash by dismantling and analyzing individual pieces of locally sourced trash with the help of scales, barcode readers, open-source databases, and waste-management data.
This workshop is led by Dietmar Offenhuber and Pablo Rey.
Dietmar Offenhuber is a research fellow in the Senseable City Lab at the Department for Urban Studies and Planning at MIT, with a background in architecture, urban studies, and digital media art.
Pablo Rey is a member of Basurama, a creative collective based in Boston and Madrid whose work focuses on the study of waste.
This program is in English with German translation.
Photo: courtesy Basurama
Wir alle glauben zu wissen, wie unser Müll aussieht, dabei ist in Wirklichkeit ein großer Teil davon unsichtbar. Enthülle und visualisiere die versteckten Prozesse und Konsequenzen, die mit einzelnen, individuellen Abfallteilen einhergehen. Denke zum Beispiel an einen Apfel, der scheinbar gar keinen Abfall verursacht. Wenn wir jedoch die Tüte, in der wir ihn nach Hause tragen, das Küchenpapier, mit dem wir ihn trocknen und die Kiste, in der er aufbewahrt und transportiert wird, mitrechnen, ist der ökologische Fußabdruck des Produkts viel größer als zunächst angenommen. Begleite uns dabei wie wir gemeinsam unserem eigenen Abfall gegenüberstehen und einzelne Teile des örtlichen Mülls mit Hilfe von Waagen, Barcode-Scannern, Open-Source Datenbanken und Abfall-Management-Daten auseinandernehmen und analysieren.
Dieser Workshop wird durch Dietmar Offenhuber und Pablo Rey geleitet.
Dietmar Offenhuber ist wissenschaftlicher Mitarbeiter des Senseable City Labs des Department for Urban Studies and Planning am MIT (Massachusetts Institute of Technology) mit Hintergrundwissen in Architektur, Stadtplanung und digitaler Medienkunst.
Pablo Rey ist Mitglied der Basurama, einer kreativen Gemeinschaft aus Boston und Madrid, die sich auf die Untersuchung von Abfall konzentriert.
Die Veranstaltung findet in englischer Sprache mit deutscher Übersetzung statt.
Foto: courtesy Basurama
Related events
ähnliche Veranstaltungen