Workshop
Thursday, July 26, 2012, 5 pm–7:30 pm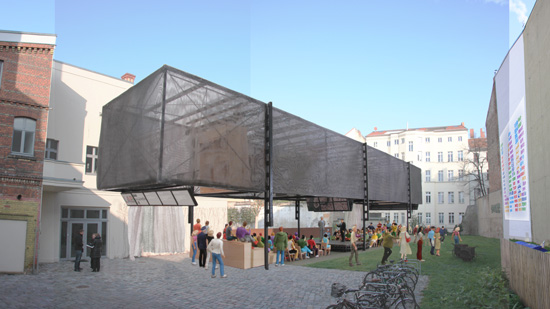 Join us for a tour and concert with GDR civil rights activist and musician Ekkehard Maaß and take a journey through the history of East Berlin. GDR civil rights activist and musician Maaß will give an introduction at the Lab followed by a tour of his art salon where— behind the Iron Curtain—GDR artists and dissidents secretly met.
This program is in German.
Begleiten Sie auf dieser Tour mit Konzert Ekkehard Maaß auf eine Zeitreise zurück nach Ost-Berlin. Der DDR-Bürgerrechtler und Musiker wird im Lab eine Einführung geben und die Teilnehmer danach zu einem Besuch in seinen Salon einladen, wo sich - hinter dem Eisernen Vorhang - DDR Künstler und Dissidenten trafen.
Ekkehard Maaß, geboren 1951, studierte Theologie und Philosophie und war in der DDR als Sänger von Okudshawa-Liedern bekannt. Nach der Ausbürgerung Wolf Biermanns organisierte er in seiner Wohnung Lesungen für junge Dichter - ein Beitrag zur Förderung einer Künstlergeneration, die sich 10 Jahre vor dem Ende der DDR von der sozialistischen Ideologie lossagte. Seit 1996 leitet er die von ihm gegründete Deutsch-Kaukasische Gesellschaft und seit 2008 das Tschetschenische Kulturzentrum in Berlin-Wedding. 2011 Ehrung mit dem Bundesverdienstkreuz.
Related events
ähnliche Veranstaltungen