Talk
Saturday, June 23, 2012, 8 pm–10 pm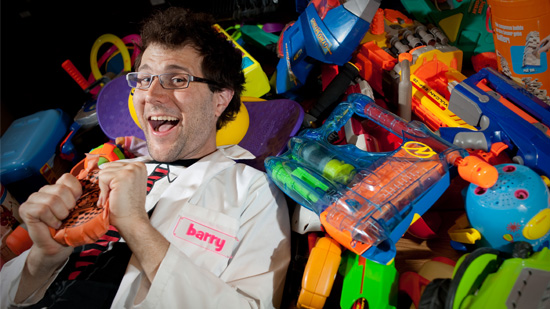 Toy designer Barry Kudrowitz leads an interactive talk that focuses on the connections between creativity, humor, and play. With an emphasis on connections between seemingly unrelated ideas, he will demonstrate the importance of play and humor in our leisure, academic, and work activities.
Barry Kudrowitz is an assistant professor of product design at the University of Minnesota. He received his PhD from the Mechanical Engineering Department at the Massachusetts Institute of Technology (MIT), studying humor, creativity, and idea generation. Kudrowitz codesigned a Nerf toy, an elevator simulator that is in operation at the International Spy Museum in Washington, D.C., and a ketchup-dispensing robot that was featured on the Martha Stewart Show.
This program is in English with German translation.
Photo: by Tony Pulsone
Der Spielzeugdesigner Barry Kudrowitz führt ein interaktives Gespräch über die Zusammenhänge zwischen Kreativität, Humor und Spiel. Dabei legt er einen Schwerpunkt auf scheinbar unzusammenhängende Ideen und demonstriert die Bedeutung von Spiel und Humor für unsere Freizeit-, Studien- und Arbeitsaktivitäten.
Barry Kudrowitz ist Dozent für Produktdesign an der University of Minnesota. Er erwarb am Massachusetts Institute of Technology (MIT) im Bereich Mechanical Engineering einen Doktortitel (PhD) und hat sich auf Humorforschung, Kreativität und Ideenentwicklung spezialisiert. Kudrowitz war an der Entwicklung einer Nerf-Fahrstuhlsimulation beteiligt, die im International Spy Museum in Washington, D.C. zu sehen ist, und entwickelte außerdem einen Roboter für die Ketchupausgabe, der in der Martha Stewart Show vorgestellt wurde.
Die Veranstaltung findet in englischer Sprache mit deutscher Übersetzung statt.
Foto: von Tony Pulsone
Related events
ähnliche Veranstaltungen