Workshop
Wednesday, July 25, 2012, 4 pm–7 pm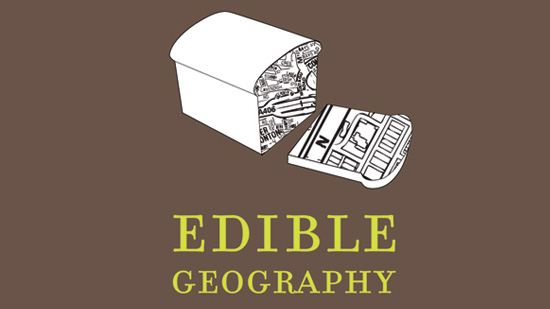 What can we learn when we map the city by its food? In this interactive cartographic workshop, Edible Geography author Nicola Twilley will take you on a whirlwind visual tour of cities around the world as seen through their cupcake shops, ghost orchards, fast-food restaurant distribution, and chewing-gum deposits. Then embark on a short food-mapping expedition, followed by an informal design charrette led by Twilley and Berlin-based artist and urban ecologist Alexandra Regan Toland. We'll map overlooked edible resources and opportunities, pull out unexpected patterns and insights, and brainstorm creative interventions to improve the neighborhood foodscape.
This program is in English with German translation.
Photo: Edible Geography, designed by Nikki Hiatt
Was können wir lernen, wenn wir die Stadt nach ihren Speisen kartieren? Im interaktiven kartografischen Workshop Genießbare Geografie nimmt Sie die Autorin Nicola Twilley auf eine visuelle Reise durch Städte rund um den Globus mit und zeigt Ihnen Städte aus der Perspektive ihrer Gebäckläden, einsamen Obstgärten, Fast-Food-Restaurants und Kaugummiautomaten. Dann begeben wir uns auf eine kurze Expedition über die kulinarische Karte, gefolgt von einem lockeren Designworkshop mit Twilley und der Berliner Künstlerin und Urbanökologin Alexandra Regan Toland. Wir erkunden ungewöhnliche Möglichkeiten essbarer Ressourcen, heben unerwartete Muster und Einblicke hervor und überlegen uns gemeinsam kreative Eingriffe zur Verbesserung des kulinarischen Angebots der Viertel.
Die Veranstaltung findet in englischer Sprache mit deutscher Übersetzung statt.
Foto: Genießbare Geografie, entworfen von Nikki Hiatt
Related events
ähnliche Veranstaltungen