Screening
Friday, July 13, 2012, 5 pm–6 pm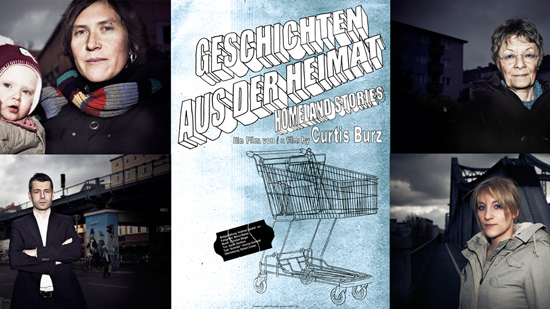 Geschichten aus der Heimat—Homeland Stories (Curtis Burz, Germany, 2009, 30 min.)
This documentary explores urban poverty in Berlin, spotlighting the city's creative class and other people who are drawn to Berlin by a myth of freedom and self-realization.
The screening will be followed by a talk with filmmaker Curtis Burz and Caroline Vieten of WeTeK Berlin, moderated by Janka Hegemeister.
This program is in German.
Image: courtesy Curtis Burz
Geschichten aus der Heimat (Curtis Burz, Deutschland, 2009, 30 min.)
Im Dokumentarfilm Geschichten aus der Heimat wird über die neue Armut in Berlin reflektiert. Wie an einer Perlenkette reihen sich Portraitaufnahmen von Kreativschaffenden und anderen Menschen aneinander, die sich in der Mitte der Gesellschaft wähnen, angezogen und gefangen vom Mythos Berlin, einer Idee von Freiheit und Selbstverwirklichung.
Nach der Filmvorführung findet ein Publikumsgespräch mit Curtis Burz sowie Caroline Vieten von WeTeK Berlin gGmbH statt. Die Moderation übernimmt Janka Hegemeister.