Talk
Sunday, July 15, 2012, 1:30 pm–2:30 pm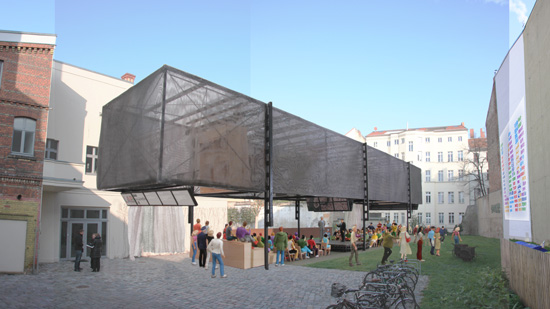 Some Germans feel that their participation in society is not valued, resulting in less civic engagement and low morale. Furthermore, the widespread perception that secure retirement and healthcare are not available to everyone increases social exclusion and unhappiness. Ernst-Dieter Lantermann argues that the way an individual sees himself as a part of the larger society hugely affects that individual's emotional wellbeing.
Ernst-Dieter Lantermann teaches social psychology and personality psychology at the Institute for Psychology at the University Kassel. He is the author and editor of numerous publications in the field of personality psychology, emotional psychology, and environmental psychology. His main research topics are complex problem-solving strategies, social exclusion, lifestyle, and environmental awareness.
Große Teile der Bevölkerung in Deutschland haben das Gefühl, dass ihre gesellschaftliche Teilhabe nicht gesichert ist und ihre Arbeit nicht anerkannt wird. Der Verlust von Lebenszufriedenheit und Glück, weniger Selbstsorge und weniger bürgerschaftliches Engagement sind die Folge.
Die weit verbreitete Wahrnehmung, dass wesentliche Leistungen der Gesellschaft wie gut bezahlte Arbeit, sichere Alters- oder Gesundheitsvorsorge nicht mehr für alle da sind, habe zur Folge, dass sich viele Menschen von der Gesellschaft ausgeschlossen fühlten, betonte Lantermann, "und gesellschaftliches Exklusionsempfinden korrespondiert in starkem Maße mit einem Verlust an Lebenszufriedenheit und Glück sowie mit einem Nachlassen an Selbstsorge, einschließlich eines verminderten bürgerschaftlichen Engagements."
Bei Menschen, die über nur wenige externe wie interne Ressourcen verfügten, steige das Risiko psychosomatischer Erkrankungen deutlich, warnte der Sozialpsychologe: Niedergeschlagenheit, Angstgefühle, Antriebslosigkeit.
Entscheidend sei vielmehr, ob das Individuum sich noch als Teil der Gesellschaft sehe oder sich selbst als ausgeschlossen betrachte.
Prof. Dr. Ernst-Dieter Lantermann lehrt Sozial- und Persönlichkeitspsychologie am Institut für Psychologie der Universität Kassel. Er ist Verfasser und Herausgeber zahlreicher Schriften in den Bereichen Persönlichkeits-, Emotions- und Umweltpsychologie sowie zum Handeln unter Unsicherheit. Seine Forschungsschwerpunkte sind Management komplexer Anforderungen, Soziale Exklusion und Vertrauen, Lebensstil und Umweltbewusstsein
Related events
ähnliche Veranstaltungen