Sunday, October 16, 2011, 3:30–5 pm
Talk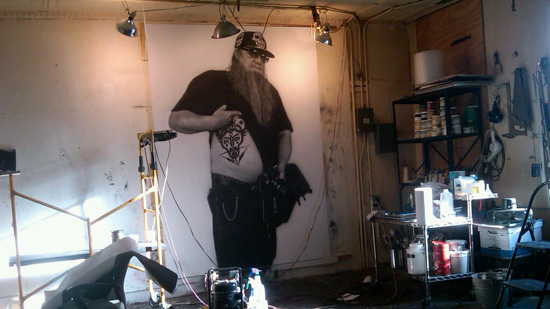 Painting of Clayton Patterson by Curt Hoppe at Hoppe's studio on the Bowery, New York, 2011
Lower East Side resident and artist Clayton Patterson has created a series of five Sunday Salons for the BMW Guggenheim Lab. This week, join Patterson and artist Elsa Rensaa as they talk about their archive of the neighborhood.
As an artist, filmmaker, and photographer, Patterson's unending political, cultural, and at times illegal documentation of Lower East Side life has captured everything from drag queens and tattoo artists to police brutality. As a gallery owner, Patterson has shown work by Dash Snow and Charles Gatewood among others. With Captured: A Film History of the Lower East Side (2008), Clayton's documentation of the Lower East Side was memorialized. In the 1980s he became a happenstance cap-maker, and his embroidered jackets and caps soon found their way to Hollywood (Mick Jagger and Matt Dillon were fans).
Elsa Rensaa, longtime friend and cohort of Patterson's, has been an integral advocate for the LES Archive that includes tens of thousands of photographs, a couple of thousand hours of video, and different kinds of ephemera related to the Lower East Side and its history.
http://www.capturedmovie.com/site.html
http://patterson.no-art.info/memo-en.html
Photo: by and courtesy Curt Hoppe
Related Events