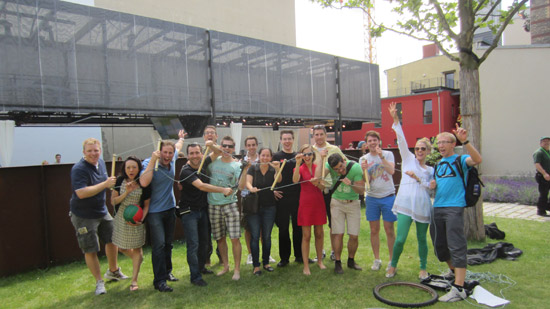 Build your own outdoor gym and work out with us every weekend. Weekend Warrior is a new training method based on circuit training, CrossFit, boxing, and parkour. It can help improve your speed, power, endurance, coordination, and agility, and has significant preventive health benefits. Discover and activate potential in your body and in the city itself as we turn the Lab and its entire urban environment into a place for training.
Your Forrest Pump trainer is Arne Schönwald, a Berlin-based sports scientist, athletic trainer, and former high-performance sportsman. In addition to classic sports, Schönwald also trains in alternative movement patterns like dance, fighting, games, and ultrarunning. Maintaining a variety of athletic capabilities is what counts!
This program is in German.
Photo: by Arne Schönwald, 2012
Kommen Sie ins Lab, bauen Sie ein eigenes Freiluft-Fitnessstudio und trainieren Sie jedes Wochenende mit uns! Gemeinsam bauen wir das Lab, den Pfefferberg und die ganze Stadt zum Trainingsort um. Es geht darum, die Potentiale der Stadt und des eigenen Körpers zu entdecken und zu aktivieren – eine neue Art Sport zu machen, mit neuer Motivation.
Denn eines ist sicher: Wir bauen, um danach gemeinsam zu schwitzen.
Grundelemente des Trainings und der Baukonstruktion kommen aus den Bereichen Zirkeltraining, Crossfit, Boxing und Parkour. Das Training mit dem eigenen Körper und dessen Gewicht schult alle motorischen Fähigkeiten (Schnelligkeit, Kraft, Ausdauer, Koordination und Beweglichkeit), steigert die Leistungsfähigkeit und hat somit einen großen präventiven Wert für die Gesundheit.
Der Workshop ist für alle Altersklassen und Niveaus offen.
Ihr "Forrest Pump"-trainer ist Arne Schönwald, Berliner Sportwissenschaftler, Athletik-Trainer und früherer Leistungssportler. Neben klassischen Sportarten trainiert er auch alternative Bewegungsformen wie Tanz, Kampf, Spiele oder Ultra-Läufe. Sportliche Allroundfähigkeite ist das, was zählt!
Foto: von Arne Schönwald, 2012
more dates
weitere tage
Related events
ähnliche Veranstaltungen