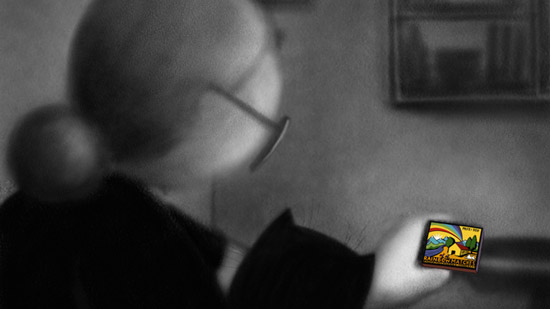 Can fantasy obscure and subvert the sharp distinction between the private and the public in a city? Join us for an evening of short films exploring this question. The films shown will be In Transience (Yashaswini R., Ekta Mittal, India, 2012, 27 min.), Presence (Yashaswini R., Ekta Mittal, India, 2012, 18 min.), and Printed Rainbow (Gitanjal Rao, India, 2006, 15 min.).
In Transience (2012) is a film that delves into the alienating reality of city change through the perspective of a working-class man who shares his fantastical desires, nostalgic memories, and experiences against the backdrop of a shifting urban landscape as it becomes increasingly unfamiliar. The rhythm of his work becomes the only constant in relation to the unpredictable cityscape.
Similarly, Presence (2012) explores the forgotten history of migrant workers in Bangalore through the recounting of ghost stories. Though shot in a typical documentary style, the film transcends the genre by capturing the workers' subconscious thoughts, which elevate the workers to the status of soothsayers or oracles who can no longer be categorized, dismissed, or pitied. In Transience and Presence were made as a part of Behind the Tin Sheets, a project initiated by four female filmmakers who use moving images to document the socioeconomic effects of Bangalore's rapid development.
Printed Rainbow (2006) traces the spectacular journey of an old woman and her cat as they find solace from the grey loneliness of city life through a collection of antique matchbox covers.
The screening will be followed by a short presentation by Gieve Patel in response to the three films, and a discussion, moderated by Surabhi Sharma, with Ekta Mittal, cofounder of Maraa; Gieve Patel, poet, playwright, and practicing doctor; Yashaswini R., documentary filmmaker; and Gitanjali Rao, animator, filmmaker, and theater artist.
Film still from Printed Rainbow: courtesy Gitanjali Rao
Related events