Talk
Wednesday, July 25, 2012, 2 pm–2:15 pm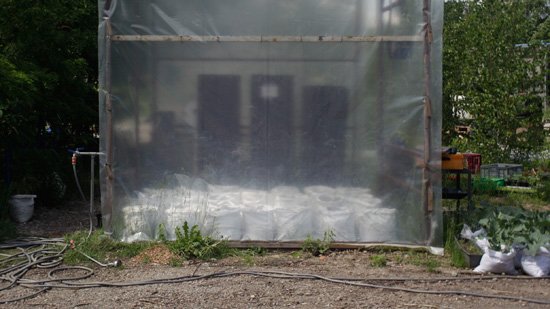 Lab Team member Carlo Ratti introduces the topic of the day: Edible Geographies. Food deserts—areas with insufficient access to healthy, diverse, and affordable food—can be found in both affluent neighborhoods and areas of lower socioeconomic status. Examine the edible geography of Berlin, reflect on how the culture of food defines a place, and rethink the taste of a neighborhood through the possibilities offered by local resources.
This program is in English with German translation.
Photo: by Lena Grass, 2012
Lab-Mitglied Carlo Ratti stellt das Thema des Tages vor: Genießbare Geografie. Ernährungswüsten – Bereiche mit unzureichendem Zugang zu gesunden, abwechslungsreichen und erschwinglichen Lebensmitteln – finden sich sowohl in wohlhabenden Vierteln als auch in Gebieten mit niedrigem sozioökonomischem Status. Untersuchen Sie die genießbare Geografie von Berlin, überlegen Sie, wie die Kultur des Essens einen Ort definiert, und überdenken Sie den "Geschmack" eines Viertels durch Möglichkeiten lokaler Ressourcen neu.
Die Veranstaltung findet in englischer Sprache mit deutscher Übersetzung statt.
Foto: von Lena Grass, 2012
Related events
ähnliche Veranstaltungen