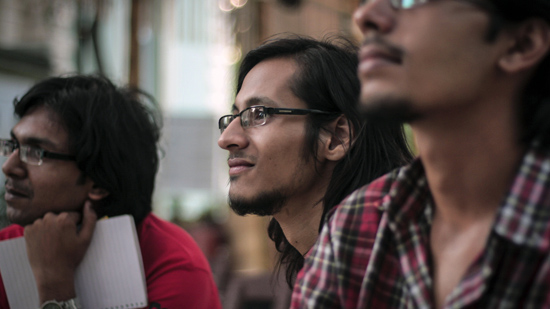 An estimated 7.2 million people use Mumbai's train system every workday. During peak commuting periods, trains built for 1,700 riders are packed with about 4,500 people. Though only an estimated 8 percent of commuters use private vehicles, the roads are also stretched past capacity, with authorities registering 250 new vehicles every day. This session will draw on plans for the Kala Nagar traffic junction to seek the opinions of advocates for public transport and private vehicles and arrive at a consensus on how resources can be allocated to benefit both constituencies.
Program series initiated by Lab Team Member Neville Mars. Hosted and facilitated by Naresh Fernandes and Sourav Biswas.
Participants: Madhav Pai, Director, EMBARQ; Geetam Tiwari, TRIPP Chair, IIT-Delhi, BGL Advisor; Ashok Datar, Chairman, MESN; Sudhir Badami, Independent Transportation Consultant; Nitin Dossa, Chairman, WIAA; Rachel Smith, Transportation Planner, AECOM, Berlin Lab Team member.
This event was conducted in English.
Photo: UnCommonSense
Related events