Workshop
Friday, July 6, 2012, 4 pm–7 pm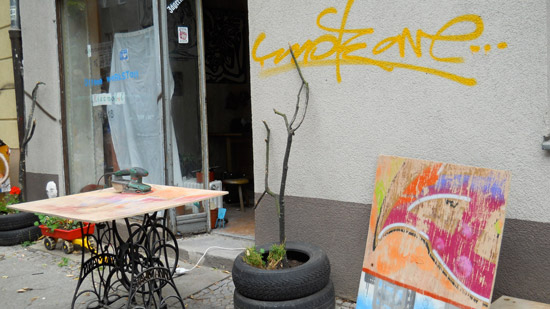 Garbage is a broad, all-encompassing term for almost everything for which we no longer have a use. Let's rethink garbage and our relationship with it. Various initiatives, groups, and individuals will participate in this workshop to host a series of making activities that revisit our relationship with garbage and culturally perceived life cycles.
Some activities will focus on personal stories, dreams, urban landscapes, and movements that influence the multiple perspectives we have on garbage. Find out about global trends for the world's waste problems and share your thoughts and experiences for a world map of "reverse garbage" ideas. Reflect on your own relationship with refuse and discover what can be done with things we declare as trash. Or create your own designs by upcycling what our society throws away.
Bring your garbage—let's be creative!
The organizers of this afternoon include:
Kulturlabor Trial & Error, join.globalwasteideas.org
Birgit S. Bauer, aboutme/birgitbauer
Jürgen Breiter, bsr.de
This program is in German.
Photo: courtesy Kulturlabor Trial & Error
Abfall ist eine breite, allumfassende Bezeichnung für fast alles, was wir nicht mehr gebrauchen können. Lassen Sie uns Abfall und unsere Beziehung dazu überdenken. Vielfältige Initiativen, Gruppen und Individuen werden sich an diesem Workshop beteiligen, um eine Serie von Herstellungsaktivitäten zu moderieren, die unsere Beziehung mit Abfall und dem kulturell wahrgenommenen Lebenszyklen überdenken.
Einige Aktivitäten werden sich auf persönliche Geschichten, Träume, Stadtlandschaften und Bewegungen konzentrieren, welche die vielen Ansichten, die wir von Abfall haben, beeinflussen. Erfahren Sie mehr über globale Trends zum Weltabfallproblem und beteiligen Sie sich mit Ihren Gedanken und Erfahrungen an einer Weltkarte der "Reverse Garbage" (Umkehr-Abfall) Ideen. Reflektieren Sie ihr eigenes Verhältnis zu Müll und entdecken Sie, was mit Dingen gemacht werden kann, die wir als Abfall bezeichnen. Oder erschaffen Sie Ihre eigenen Designs durch Upcycling von dem, was unsere Gesellschaft wegwirft.
Bringen Sie Ihren Abfall mit – lassen Sie uns kreativ sein!
Zu den Veranstaltern dieses Abends gehören:
Kulturlabor Trial & Error, join.globalwasteideas.org
Birgit S. Bauer, aboutme/birgitbauer
Jürgen Breiter, bsr.de
Diese Veranstaltung findet in deutscher Sprache statt.
Foto: Courtesy Kulturlabor Trial & Error
Related events
ähnliche Veranstaltungen