Sunday, September 18, 2011, 2–3:30 pm
Talk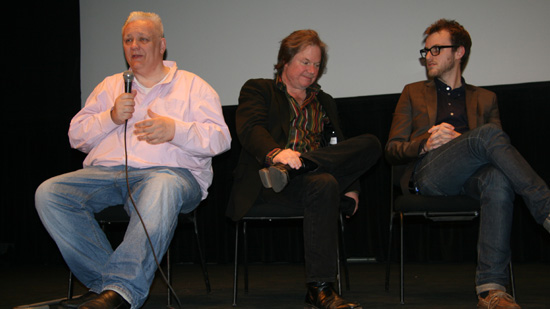 Above: Jeremiah Newton, James Rason, and Zach Steuart-Portier after a screening of
Beautiful Darling
at the Museum of Modern Art, New York, 2011
Clayton Patterson has created a series of five Sunday Salons for the BMW Guggenheim Lab. This week, join Jeremiah Newton, playwright and executor of the estate of Candy Darling—one of Andy Warhol's superstars—as he shares anecdotes about Warhol's Factory and its legacy. A native New Yorker, for the past 20 years Mr. Newton has served as the film industry liaison for New York University's Tisch School of the Arts. In 2009 he produced the feature-length documentary
Beautiful Darling
, which premiered at the Berlinale and at New Directors/New Films at Lincoln Center and the Museum of Modern Art in New York. He was also a writer of the 1996 indie
I Shot Andy Warhol
. His new play,
StarDusk
, is based on his experiences with Candy Darling, and takes place on closing night of a production of Tennessee Williams'
Small Craft Warnings
. Newton is the recipient of the Hamptons International Film Festival's 2010 Golden Starfish Award, and the prize for Best Documentary at the 2010 Chicago International Film Festival.
Link:
http://www.facebook.com/pages/Beautiful-Darling/109274572424772

Leaving from: BMW Guggenheim Lab
Traveling to: Clayton Gallery and Outlaw Art Museum, 161 Essex Street, New York
Mode of transportation: Walking
Photo: by and courtesy Clayton Patterson
More Dates
Sunday, October 2, 2011
Sunday, October 16, 2011
Related Events