Workshop
Thursday, July 5, 2012, 2:30 pm–6:30 pm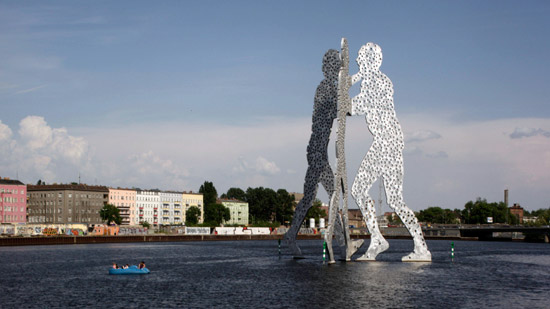 Join Manda Brookman, director of CoaST, and Marja van Loef, One Planet Tourism network manager at CoaST, for this two-part master class about sustainable tourism practices.
Part 1: Manda Brookman introduces the concept of "one planet tourism": tourism providing benefits to the community, economy, and environment while operating within our social, financial, and environmental means.
Part 2: Analyze how tourism initiatives can be made more responsible and sustainable for business owners and tourists alike. Bring examples of Berlin tourist materials like leaflets, campaigns, and offers and we'll evaluate them together.
This program is in English with German translation.
Photo: by Lena Grass, 2012
Manda Brookman, Direktorin von CoaST, und Marja van Loef, One Planet Tourism Netzwerk-Managerin bei CoaST, leiten diese zweiteilige Meisterklasse über nachhaltige Tourismuspraktiken.
Teil 1: Manda Brookman stellt das Konzept "one planet tourism" (Tourismus für eine Welt) vor: Das Konzept sieht eine Form des Tourismus vor, die den Menschen vor Ort, der Wirtschaft und der Umwelt dienlich ist und den sozialen, finanziellen und ökologischen Rahmenbedingungen gerecht wird.
Teil 2: Wir analysieren, wie touristische Angebote für Geschäftsinhaber und Touristen gleichermaßen verantwortungsvoller und nachhaltiger gestaltet werden können. Bringen Sie touristisches Informationsmaterial aus Berlin mit, beispielsweise Broschüren, Werbekampagnen und Angebote, damit wir diese Unterlagen gemeinsam auswerten können.
Die Veranstaltung findet in englischer Sprache mit deutscher Übersetzung statt.
Foto: von Lena Grass, 2012
Related events
ähnliche Veranstaltungen