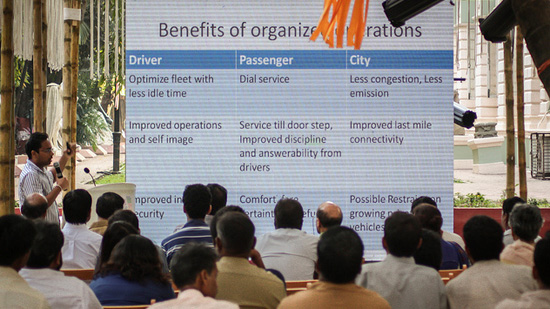 Mumbai's vast network of auto rickshaws and taxies provides crucial last-mile connectivity from transport/commercial hubs in residential areas, and acts as a public tool that helps alleviate private transport pressure on the roads. The Lab is calling all stakeholders to join for this collaborative roundtable discussion about how we can make improvements to the taxi/auto rickshaw system (through the use of technology, systematic and extensive sharing, fair regulation, and more); how it can lead to win-win solutions for trade and the city; and how it can bridge the gap between public and private transport.
This program will be held in a mix of English, Marathi, and Hindi.
Participants: Amarendra Bhasker, Book My Cab; Anthony Cordoz, Taxi union leader; Shirish Deshpande, Grahak Panchayat; Promod Ghone, auto union leader, Eastern suburb; Akshay Mani, EMBARQUE; V.N. More, RTO; Vivek Phansalkat, Joint Police Commissioner; Sharad Rao, auto union leader, Western suburb; R.D. Singh, DY. Chief Traffic, MCGM; Shivani Singh, HOD, Urban Planning Department, Rachana Sansad.
Moderated by Lab Team member Trupti Amritwar Vaitla
Photo: UnCommonSense
Related events