Back to calendar
Your Space, My Space, or Our Public Space: PUKAR-BMW Guggenheim Lab Collaboration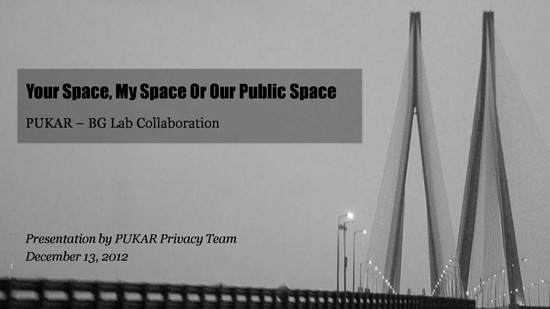 Partners for Urban Knowledge, Action and Research (PUKAR), an independent research collective and urban knowledge production center based in Mumbai, has been providing a platform for cross-disciplinary, multi-sectoral, community-based research for more than ten years, using Mumbai as its lab. Join PUKAR as they present illuminating stories, maps, and data from the BGL-PUKAR collaboration investigating the topic of privacy and public space in the city. PUKAR will be conducting surveys of visitors to the Lab and will present those stories during this event.
To reserve your place, please email bglmumbai@guggenheim.org. Reservations will be taken on a first-come, first-served basis.
Presented by the PUKAR Privacy Team and introduced by Aisha Dasgupta, BMW Guggenheim Lab Team Member.
Photo: courtesy PUKAR
Related events