Friday, October 14, 2011, 2–5 pm
Fieldwork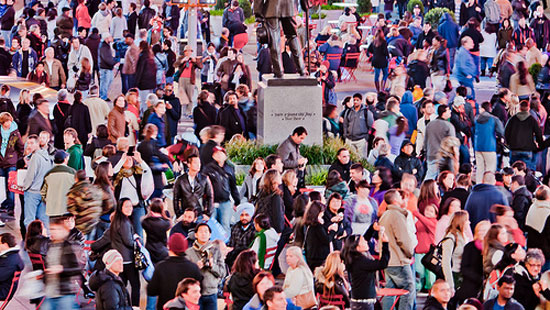 Leaving from: any point in New York
Traveling to: across New York
Mode of transportation: walking, rain or shine
Go viral with creative consulting and design collaborative spurse as they launch a special edition of MATR, their latest phone app, which they will use to lead participants in a three-hour game across New York. MATR is an interactive sound experiment that changes as you move. But what happens when "you" are no longer a single individual, but a crowd of hundreds, or even thousands? How will you move, and where? Unlike most rule-bound games, MATR promises to trip the outcome in unexpected ways. Where will the game lead us, who will we encounter, and more interestingly, what sort of event will this make? For the final research endeavor in the Live Feeds series, become part of a massive, self-organizing, and fully emergent swarm to celebrate—and shepherd in—a future model of how change happens.
Step 1: RSVP so that we can contact you with up-to-the-minute news about the game.
Step 2: Download the MATR app to your smartphone (iPhone or Android). It's free! Please remember to use earphones.
Step 3: Begin the game at 2 pm, wherever you are in New York, and end the game at 5 pm in a totally unexpected place!
Photo used by permission under Creative Commons Attribution-Share Alike 2.0 Generic (CC BY-SA 2.0) License from divya.