Workshop
Sunday, June 24, 2012, 12:30 pm–6 pm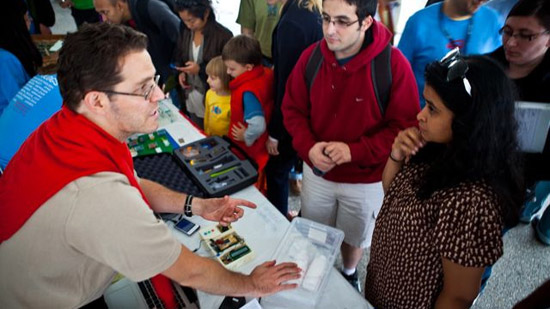 What are some of Berlin's most creative minds working on right now? We're bringing together people from throughout the city, with a range of professional backgrounds, all united by the same creative interest in do-it-yourself methods. Mini Maker Faire Berlin will feature a wide variety of projects, from a solar-powered crepe maker to a remote-controlled diaper changer. See how other people's ideas can influence the way you approach your life and your own creative endeavors!
This program is in English and German.
Photo: courtesy Little Devices Group, 2011
Woran arbeiten einige der kreativsten Köpfe Berlins im Moment? Aus der ganzen Stadt bringen wir Menschen mit unterschiedlichem beruflichen Hintergrund zusammen, die ein Interesse an kreativen "Do it yourself"-Konzepten haben. Auf der Mini Maker Fair Berlin wird eine Vielzahl verschiedener Projekte zu bestaunen sein, darunter eine solarbetriebene Crêpière (Gerät zum Backen von Crêpes) und ein ferngesteuerter Windelwechsler. Lassen Sie sich von den Ideen anderer Menschen inspirieren und erleben Sie, wie sich Ihre eigene Herangehensweise und kreative Arbeit verändern!
Die Veranstaltung findet in englischer und deutscher Sprache statt.
Foto: mit freundlicher Genehmigung von Little Devices Group, 2011
Related events
ähnliche Veranstaltungen