Back to calendar
The NY Leftover Bailout: Keeping Spaces for Unplanned Small Initiatives
Saturday, August 13, 2011, 12–5 pm
Special Event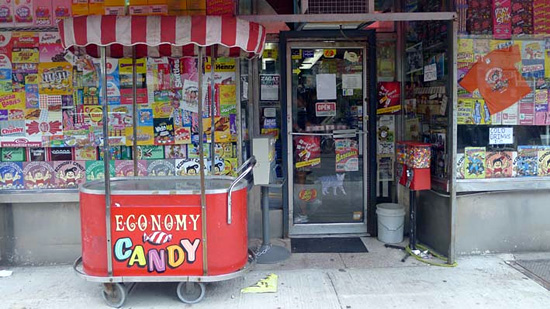 The NY Leftover Bailout is a weekend-long program looking at how vibrant, diverse communities are created and maintained despite gentrification processes. Between 1998-1999 and 2005-2006, social artist Jeanne van Heeswijk worked with media activist Martin Lucas in the East Village where she became captivated by the way small enterprises fruitfully intertwined with the cultural milieu—a situation that has changed drastically. In this kick-off event for the NY Leftover Bailout, van Heeswijk and Lucas, along with urban designer Marcel van der Meijs, invite you to look at the micro-scale of the area as the basis for cultural, economic, and social change, and address the need for diverse, locally-based entrepreneurship.
12 pm
Introduction to the NY Leftover Bailout: Keeping Spaces for Unplanned Small Initiatives by Fivel Rothberg (filmmaker).

Screening: Some Place like Home by Kelly Anderson and Allison Lirish Dean

1 pm
Discussion on the Downtown Brooklyn and Fort Greene development as reflected in Some Place like Home, followed by a presentation by Maisha Morales, FUREE (Families United for Racial and Economic Equality) Board Member.

Short introductions and shared experiences on gentrification by vendors: Aziza Browne (Aziza Jewelry), Sergio Deynes, Linda Cav (A Tee Grows), and others.

1:30 pm
Lisa Willis (Co-Producer, Counsel, My Brooklyn) speaks on the changes in Fort Greene and introduces the documentary, My Brooklyn.

Screening of clips from My Brooklyn by Kelly Anderson and Allison Lirish Dean (Documentary in development)

Interviews and Kickstarter clips include:

Discussion of rezoning issues by
-Tom Angotti, Professor of Urban Affairs and Planning at Hunter College of the City of New York, on rezoning

-Purnima Kapur, Director of the Department of City Planning of New York City, on rezoning and development in Downtown Brooklyn

Discussion of gentrification by
-Craig Wilder, Professor of History at MIT, on gentrification and small businesses in Bedford-Stuyvesant, Brooklyn

Discussion of public subsidies for private developments versus affordable housing by
-Alyssa Katz, Pratt Center for Community Development, on tax breaks for luxury high-rise development and ownership

-Michelle de la Uz, Director of the Fifth Avenue Committee, on lack of affordable housing, its replacement with luxury high-rises, and its impacts on the neighborhood

Discussion of the culture of Brooklyn with a focus on the shifting landscape of Downtown Brooklyn racially, economically, and culturally
-Jamel Shabazz, Photographer, on the culture and transformation of Fulton Mall

Notes by Dan Steinberg (Spokesperson for Good Jobs New York) on Albee Square Mall

2:45 pm

Meredith TenHoor (architectural historian), co-author of Street Value: Shopping, Planning and Politics at Fulton Mall, speaks on Downtown Brooklyn.

3:30 pm

A LES Perspective with Susan Fleminger (Henry Street Settlement's Arts-in-Education Director) and Joel Feingold (community organizer, GOLES, Good Old Lower East Side - advocacy group).
Related Events