Sunday, September 11, 2011, 10–10 pm
Special Event, Featured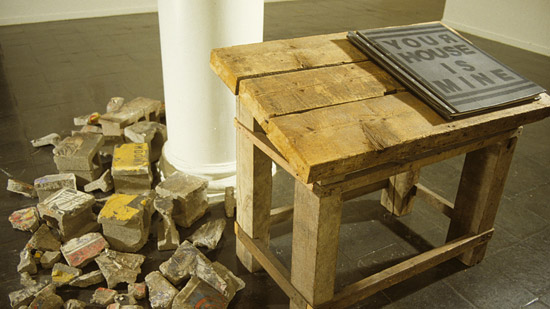 The BMW Guggenheim Lab presents the portfolio Your House Is Mine, a collection of artwork and writing produced in the wake of the 1988 Tompkins Square Riots in New York City-the confrontation of police and radicals over the eviction of squatters in Lower East Side properties and the 300 homeless individuals living in Tompkins Square Park.

Organized and edited by: Andrew Castrucci and Nadia Coën Produced by: Bullet Space, an anarchist squatter community since 1986.

With artists: ACT-UP, Miguel Algarín, Chris Burden, Paul Castrucci, Betzaida Concepción, Nadia Coën, Yolanda Crespo, Dar, Daze, John Fekner, Eduardo Galleano, Allen Ginsberg, David Hammons, Lady Pink, Pain, Public Enemy, Adam Purple, Red Rodriguez, Will Sales, Sane, Sebastian Schroder, Walter Sipser, Seth Tobocman, Anton van Dalen, Bruce Witsiepe, Krzysztof Wodiczko, David Wojnarowicz, and many others.
Related Events