New York Lab Collaborators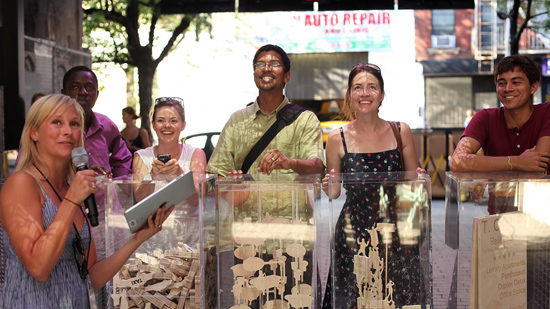 In each of the Lab's locations, its programs and projects were made possible by a host of collaborators: individuals and organizations who made varied and valuable contributions to the Lab. Below is a list of those people and entities that helped give shape to the Lab in New York.
Silva Ajemian, Todo Design
Lucia Allais, Princeton University
Tobias Amborst, Interboro Partners
Vincent Appel, Medium
Ellen Bar, New York City Ballet
Jake Barton, Local Projects
Steve Beltzer, VolvoTango
Thieu Besselink, FreedomLab
Assaf Biderman, MIT SENSEable City Lab
Diane Brady, Bloomberg Businessweek
Landon Brown, VisionArc
Aziza Browne, Aziza Jewelry
Emanuele Castano, New School
Linda Cav, A Tee Grows in Brooklyn
George Chauncey, Yale University
Harold Cromer
Alejandro de Castro Mazarro, Latin Lab, Columbia University
Sergio Deynes, A Tee Grows in Brooklyn
Elizabeth Diller, Diller Scofidio + Renfro
Colin Ellard, University of Waterloo in Ontario
Joel Feingold, Good Old Lower East Side (GOLES)
Naresh Fernandes, POIESIS Fellow, Time Out India
Tanya Fields, BLK Project
Susan Fleminger, Henry Street Settlement
Annie Fredricks, Hester Street Collaborative
Sharon Gannon, Jivamukti Yoga
Lynda Garcia
Paul Garin, Organizing for Occupation
Christoph Gielen
Bette Gordon, Columbia University
Robert Graf, First Street Block Association
Greg Greene, ResilientCity Project
Sebastián Gutierrez
Michael Haggerty
Haitian and Dominican Human Rights Activitists
Gabrielle Hamilton, Prune Restaurant
Joseph Heathcott, New School
Rachel Heiman, New School
Everett Hollander, REX
Matthias Hollwich, HWKN
Nicholas Humphrey
Bjarke Ingels, BIG
Clara Irazábal, Latin Lab and Graduate School of Architecture, Planning and Preservation, Columbia University
Benoit Jacob, BMW i Design
Momoyo Kaijima, Atelier Bow-Wow
Shelby Kaufman
Mari Koda
Kaja Kühl, youarethecity
James Howard Kunstler
Latin American and Caribbean Community Center
David Life, Jivamukti Yoga
Mike Lydon, Street Plans Collaborative
Michael Manfredi, Weiss/Manfredi
Dan Miner, Beyond Oil NYC
Jennifer Monson
Frank Morales
Maisha Morales, FUREE
New York City Department of Parks and Recreation
Margaret Newman, NYC Department of Transportation
Ou Ning, Shao Foundation
NYU Wagner School of Public Service
Jorge "Fabel" Pabon, Rock Steady Crew
Carlos Felipe Pardo
Participatory Budgeting Project
Jordan Pender, Partnership for Parks
Kembra Pfhaler, The Voluptuous Horror of Karen Black
PlayLab
Anne Pope, Sustainable Flatbush
Jorge Prado, Todo Design
Elizabeth Press, Streetfilms
Michael Prokopow, Ontario College of Art and Design
Hector Quintana
Hugh Raffles, New School
Sarah Reich
Elsa Rensaa
Damon Rich
Terry Rodriguez, Community Supported Kitchen
Marta Rosario
Vincent Rump, FreedomLab Future Studies
James S. Russell
Caroline Samponaro, Transportation Alternatives
Saskia Sassen, Columbia University
Juliet Schor, Boston College
Michiel Schwarz, FreedomLab Future Studies
Denise Scott Brown, Venturi, Scott Brown and Associates, Inc.
Keeli Shaw, Local Projects
Cassim Shepard, Urban Omnibus
Wang Shi, China Vanke Co., Ltd. / BMW Guggenheim Lab
David Sloan Wilson
Greg Smithsimon, Brooklyn College
Michael Sorkin, City College of New York
Kio Stark, NYU ITP
Graeme Sullivan, Pennsylvania State University
Sean Suozzi, New York City Ballet
Galina Tachieva
Meredith TenHoor, Pratt Institute's School of Architecture
Third Root Community, Third Root Community Health Center
Yoshiharu Tsukamoto, Atelier Bow-Wow
Marcel van der Meijs
Hans Venhuizen, Bureau Venhuizen
Marion Weiss, Weiss/Manfredi
June Williamson, City College of NY
Alejandro Zaera-Polo, Alejandro Zaerza Polo Architects
Sharon Zukin, Brooklyn College / SUNY
Photo: Roger Kisby