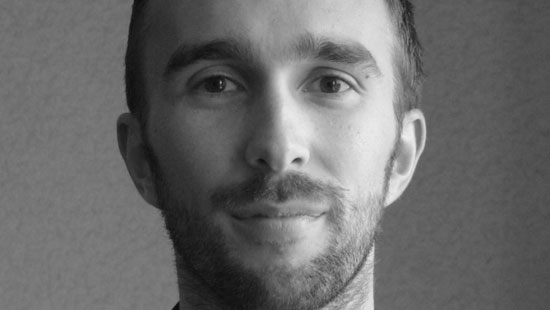 David van der Leer, Former Curator, BMW Guggenheim Lab
David van der Leer Kurator, BMW Guggenheim Lab
David van der Leer joined the Guggenheim in October 2008 and first worked on the exhibitions Frank Lloyd Wright: From Within Outward and Contemplating the Void: Interventions in the Guggenheim Museum. In May 2011, his Intervals exhibition with the San Francisco-based collective Futurefarmers opened to the public at the museum and around New York City. Until April 2013, Van der Leer led the curatorial team of the BMW Guggenheim Lab with Curator Maria Nicanor. In addition, Van der Leer curated stillspotting nyc, a two-year multidisciplinary project that took the Guggenheim's Architecture and Urban Studies programming out into the streets of the New York City's five boroughs. Every three to five months, "stillspots" were identified, created, or transformed by architects, artists, designers, composers, and philosophers into public tours, events, or installations. The fifth and final stillspotting nyc edition, Audiogram by Improv Everywhere and audiologist Tina Jupiter, took place in the Bronx in 2012.
Van der Leer was one of the three curators for Spontaneous Interventions at the American Pavilion of the Venice Architecture Biennale in 2012, and for the Shenzhen & Hong Kong Bi-City Biennale of Urbanism/Architecture of 2011 he was curator of the exhibition And Then It Became a City: Six Cities Under 60. Van der Leer has lectured internationally on architecture and cities and is a regular contributor to publications such as Domus, Mark,The Architect's Newspaper, Azure, and PIN-UP. Prior to the Guggenheim, Van der Leer held editorial and curatorial positions at 010 Publishers in Rotterdam; the Office for Metropolitan Architecture (OMA) in Rotterdam; and Steven Holl Architects in New York. He received his MA with a focus on urban and architectural theory from the Department of Art and Cultural Sciences at Erasmus University Rotterdam, the Netherlands.
Photo: David Heald
David van der Leer kam im Oktober 2008 zum Guggenheim und war in seinem ersten Projekt mit den Ausstellungen "Frank Lloyd Wright: From Within Outward" und "Contemplating the Void: Interventions in the Guggenheim Museum" betraut. Seine "Intervals"-Ausstellung, die in Zusammenarbeit mit dem Künstlerkollektiv Futurefarmers aus San Francisco erstellt wurde, war im Mai 2011 im Museum und rund um die Stadt New York für die Öffentlichkeit zugänglich. Gemeinsam mit der Kuratorin Maria Nicanor leitet van der Leer das Kuratorium des BMW Guggenheim Lab, ein internationales mobiles Forschungslabor für städtebauliche Experimente und öffentliche Programme, Daneben ist David van der Leer als Kurator für stillspotting nyc tätig, ein zweijähriges interdisziplinäres Projekt das die Architektur- und Urbanistikprogramme des Guggenheim Museums in fünf New Yorker Stadtteilen auf die Straße bringt und von der Hoffnung auf besondere Momente voller Ruhe inmitten der hektischen Stadtlandschaft angetrieben ist. Alle drei bis fünf Monate werden sogenannte "Stillspots" (Ruheorte) von Architekten, Künstlern, Designern, Komponisten und Philosophen erobert, geschaffen oder durch öffentliche Rundgänge, Veranstaltungen oder Installationen verwandelt. Die vierte und letzte Ausgabe von stillspotting nyc, "Telettrofono" von Tonkünstler Justin Bennett und Dichter Matthea Harvey, fand entlang der Staten Island Waterfront im Juli 2012 statt.
Van der Leer ist einer der drei Kuratoren für Spontaneous Intervention des amerikanischen Pavillions bei der Architekturbiennale in Venedig 2012 und für die Urbanismus-/Architektur-Biennale von Shenzhen und Hongkong 2011, Er war Kurator der Ausstellung "And Then It Became A City: Six Cities Under 60. " Leer hält internationale Vorträge über Architektur und Städte und veröffentlicht regelmäßig Beiträge in Publikationen wie Domus, Mark, The Architect's Newspaper, Azure und PIN-UP. Vor seiner Tätigkeit für das Guggenheim arbeitete er in redaktionellen und kuratorischen Funktionen für 010 Publishers in Rotterdam, das Office for Metropolitan Architecture (OMA) in Rotterdam und Steven Holl Architects in New York. Er machte seinen Masterabschluss mit Schwerpunkt auf Stadt- und Architekturtheorie an der Fakultät für Kunst- und Kulturwissenschaften der Erasmus-Universität Rotterdam in den Niederlanden.
Foto: David Heald