Workshop
Friday, June 29, 2012, 2:30 pm–4:30 pm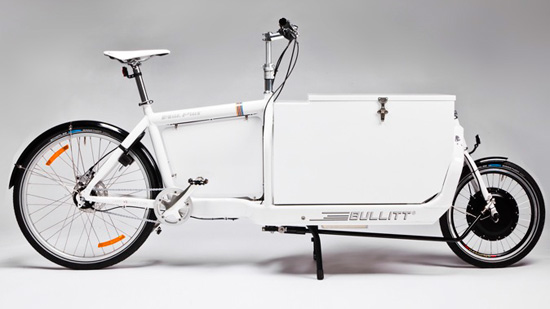 These days, there are fewer and fewer excuses to leave your bike at home. Today, we'll find out how far a normal, healthy person can cycle within thirty minutes. Join us for a test ride to compare regular bikes with eBikes and help collect data for the very first "No Excuse Zone Map" of Berlin.
This workshop will be conducted by Mike Harris and Lab Team member Rachel Smith. Urban-e will provide eCargo and eBikes.
Mike Harris is a landscape architect and urban designer based in AECOM's Sydney Studio and has worked on a range of Australian and international projects. With a focus on active transport and urban design, Mike believes that the public realm is most meaningful and successful when infrastructure, community activity, and ecological processes overlap and combine into engaging and efficient urban landscapes. Most recently, Mike has delivered active travel strategic plans and streetscape design schemes to various local and state government clients. His expertise in this area developed out of a comprehensive body of research, including Sydney-specific initiatives and international research. Mike tutors design studios in landscape architecture at the University of New South Wales.
Rachel Smith is a Lab Team member at the BMW Guggenheim Lab, Berlin.
This program is in English and German.
Photo: courtesy Urban-e, Berlin
Es gibt immer weniger glaubwürdige Ausreden, das Fahrrad zu Hause zu lassen. Heute finden wir heraus, wie weit eine gesunde Person innerhalb von 30 Minuten mit dem Fahrrad fahren kann. Nehmen Sie an unserer Probefahrt mit herkömmlichen Rädern, Elektrofahrrädern und solarbetriebenen Fahrrädern teil und helfen Sie uns, Daten für den ersten Berliner "Stadtplan der ausredefreien Zone" zu sammeln!
Dieser Workshop wird durchgeführt von Mike Harris und Lab-Teammitglied Rachel Smith. Urban-e stellt eCargo Bikes und eBikes zur Verfügung.
Mike Harris ist ein Landschaftsarchitekt und Stadtgestalter im AECOM-Studio in Sydney und arbeitete bisher an verschiedenen australischen und internationalen Projekten. Mit einem Arbeitsschwerpunkt in Transport- und Stadtplanung glaubt Mike daran, dass der öffentliche Raum am bedeutsamsten und erfolgreichsten genutzt werden kann, wenn Infrastruktur, Aktivitäten der lokalen Gemeinschaft und ökologische Prozesse überlappen und sich zu einer anregenden und effizienten städtischen Umwelt zusammenfügen. Kürzlich übergab Mike strategische Pläne für eine aktive städtische Fortbewegung und Straßendesign an verschiedene lokale und staatliche Regierungskunden. Seine Erfahrungen in diesem Bereich stammen aus umfassender Forschung und Projekten, die er in Sydney und international durchführen konnte. Mike gibt Unterricht in Landschaftsarchitektur an der University of New South Wales
Foto: courtesy Urban-e, Berlin
Related events
ähnliche Veranstaltungen