Event
Wednesday, July 11, 2012, 2:15 pm–8 pm
Meet at the Lab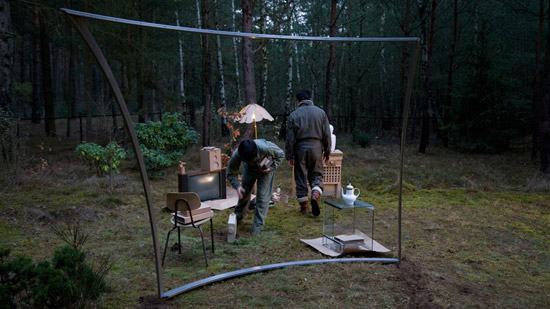 Anton Burdakov explores small-scale architectural interventions that have the potential to support leisure activities in public space. Spending time in the city often implies spending money—in cafés, shops, cinema and so on—while "toll-free" spaces suitable for a pause are generally limited to public benches. So which other physical structures could support leisure time? And how can we extend the range of activities they support? From the way such spaces are being constantly improvised, the need for them seems clear. Observation also shows that improvised spaces are generally more than just a place to sit: they have to feel right.
The workshop starts with the observation that the feeling of being inside —which can imply comfort and protection—is not the same as the actual fact of being inside. This feeling can be created through minimal means, by hints on the periphery of vision. We will explore how such spatial devices can be used to create spaces that provide not only physical but also psychological "anchor points" in the city, and encourage spending time in public space.
The goal is to develop and build several site-specific structures of this kind, using simple and inexpensive materials. The structures were developed together with Jeremy Burke.
This program is in English.
Photo: by Eduardo Balanza, 2008
Dieses Projekt erkundet kleine architektonische Eingriffe, welche das Potenzial haben, Freizeitaktivitäten im öffentlichen Raum zu fördern. Zeit in der Stadt zu verbringen, bedeutet oftmals Geld auszugeben – in Cafés, Geschäften, dem Kino – während "gratis" Plätze, geeignet für eine Pause, generell auf öffentliche Bänke beschränkt sind. Welche anderen materiellen Strukturen können Freizeit unterstützen? Kann die Vielfalt der Aktivitäten, die sie begünstigen, erweitert werden? Beobachtungen zeigen zudem, dass improvisierte Plätze generell mehr als nur Orte zum Sitzen sind: Sie müssen sich richtig anfühlen.
Ein Ausgangspunkt ist die Feststellung, dass das Gefühl des Drinnen Seins – welches Komfort und Geborgenheit implizieren kann – nicht das Gleiche ist, wie tatsächlich drinnen zu sein. Dieses Gefühl kann durch minimale Mittel hervorgerufen werden, durch Zeichen am Rande des Sichtfeldes. Dieses Projekt wird erkunden, wie solche räumlichen Vorrichtungen benutzt werden könnten, um Orte zu schaffen, die nicht nur physische sonder auch psychologische "Ankerpunkte" in der Stadt sind, die ermutigen Zeit im öffentlichen Raum zu verbringen.

Mehrere Konstruktionen dieser Art werden entwickelt und an unterschiedlichen Orten in Berlin aufgebaut. Einfache, kostengünstige Materialien werden eingesetzt und jede Konstruktion wäre in zwei bis drei Tagen fertig gestellt. Orte, an denen solche Konstruktionen am meisten benutzt werden würden, werden in Konsultation mit Anwohnern ausgearbeitet. Die Konstruktionen werden in Zusammenarbeit mit Jeremy Burke entwickelt. Die Orte werden zudem im Vorfeld bestimmt, sodass jeder am Entwurf und Aufbau teilnehmen kann. Anton Burdakov und zwei Architekturstudenten wirken als Vermittler und Arbeitskräfte.
Foto: by Eduardo Balanza, 2008
Related events
ähnliche Veranstaltungen