Workshop
Saturday, July 7, 2012, 2 pm–5 pm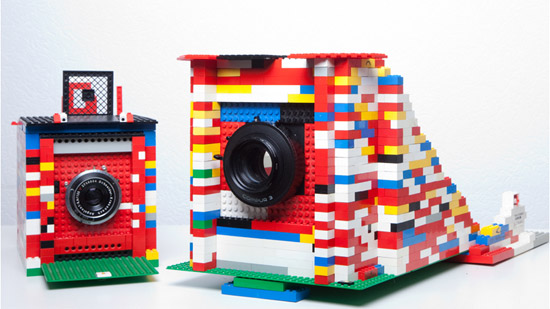 How do we capture our visual perception of the city? What happens when you take a picture, and what are the physics and mechanics behind this process?
Make an instant picture camera from Lego parts. Led by photographers and makers Kay Strasser and Jens Werlein, participants will construct and test two cameras using more than 5,000 Lego bricks. Everybody can build their own camera.
This program is in German.
Photo: courtesy Jens Werlein
Kann man eine Kamera aus Spielzeug bauen, die wirklich funktioniert? Mit der man richtige Fotos machen kann? Der Workshop "Die Legografen - Build your own Lego Camera" gibt einen Einblick in die einfachsten technischen und physikalischen Grundlagen der Fotografie und zeigt, dass jeder seine Kamera selbst bauen kann. Basis hierfür ist das Prinzip der Loch- und Boxkameras, das aber auch bei höchstprofessionellen Großformatkameras Einsatz findet. Erstmals werden wir öffentlich an drei verschiedenen Modellen im Format 4x5 inch und 8x10inch bauen und sie anschliessend mit den Workshopteilnehmern auch im praktischen Einsatz mit Sofortbildmaterial, einem speziellen Positivpapier sowie einem Digitalrückteil testen.
Der Workshop ist als Einstieg für ein längerfristiges Open-Source-Projekt angedacht, bei dem die Legokamera in Zukunft immer weiter entwickelt und dann auch kreativ eingesetzt werden soll.
Kay Strasser arbeitet im Betahaus Berlin an innovativen Konzepten und lebt zur Zeit in Berlin und London. Jens Werlein ist seit 1982 freier Fotograf und unterrichtet an der Hochschule für Gestaltung in Schwäbisch Gmünd.
Dieser Workshop wurde ermöglicht durch die freundliche Unterstützung vom Legoland Discovery Center am Potsdamer Platz und Impossible.
Foto: courtesy Jens Werlein
Related events
ähnliche Veranstaltungen