Back to calendar
Zurück zum Kalender
Free Space Berlin: A Panel Discussion on the Berliner Liegenschaften
Freiraum Berlin: Eine Podiumsdiskussion über die Berliner Liegenschaften
Talk
Friday, July 13, 2012, 2:15 pm–5 pm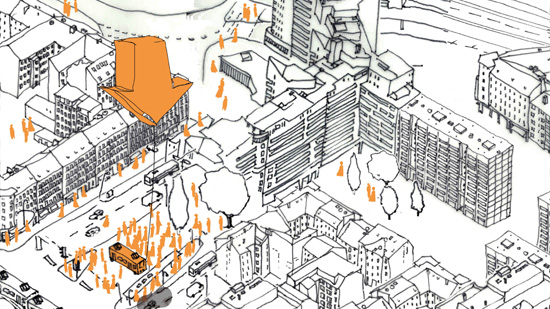 Like any city government, the city of Berlin is a landowner, and a lot of the land it owns is vacant or unused. But did you also know that some of that public land is being sold?
Under the controversial policy known as the Liegenschaftfonds, city-owned plots are sold in a bidding process where monetary value determines the selling process. Several Berlin-based advocacy groups believe that public real estate should instead be given to sustainable projects that foster social and culturally diverse neighborhoods. But where are these plots for sale located, exactly, and how can we ensure that they are being responsibly developed? How can citizens participate in the process?

Join us in discussion with Florian Schmidt, co-founder of Initiative Stadt Neudenken (ISN) (Rethink the City Initiative), and Jürgen Breiter, urban curator, to learn more about how citizens can get involved.
This program is in German.
Image: by openBerlin
Das Leitbild "Soziale Stadt" wird seit langem für Berlin propagiert. Mit dem gleichnamigen Programm werden seit dessen Einführung im Jahre 1999 durch Quartiersmanagements Berliner Sozialräume "stabilisiert". Doch seit Kurzem besteht Konsens darüber, dass nicht Berlins Problemkieze primär Anlass zur Sorge geben, sondern die Verdrängung von sozial benachteiligten Menschen aus der Innenstadt. Das Neue Thema der Sozialen Stadt ist demnach der Erhalt von sozialer und kultureller Vielfalt in Kombination mit den partizipativen und integrativen Ansätzen des Quartiersmanagements. Zunehmend tritt die Frage in den Vordergrund, wie Wohnraum, Arbeitsraum sowie Räume für Bildung und Kultur konkret so gestaltet werden können, dass sie für alle Menschen zugänglich sind und soziale Mischung und kulturelle Vielfalt langfristig stärken.
Die Veranstaltung "Die Soziale Stadt gestalten" will laborhaft den direkten Dialog zwischen Zivilgesellschaft, Wissenschaft und Politik zu diesen Themen herstellen.
Mit: Ephraim Gothe (Staatsekretär Senatsverwaltung für Stadtentwicklung und Umwelt), Dr. Volker Hassemer (Vorstand Stiftung Zukunft Berlin), Prof. Barbara John (Vorstand Paritätischer Wohlfahrtsverband, Berlin), Wolfgang Kiehle (Vorstand Stiftung trias), N.N. (Liegenschaftsfonds Berlin), Prof. Dr. Fabian Thiel (Fachgebiet Immobilienwirtschaft und Immobilienbewertung Fachhochschule Frankfurt am Main), N.N. (Senatsverwaltung für Finanzen), N.N. (Berliner Mieterverein e.V.)
14:30 Einführung Tagesthema
14:45 Liegenschaftspolitik für "Dummys"
15:00 Forum I: Bürger machen Stadt: wie funktioniert partizipative Liegenschaftspolitik?
15:45 Forum II: Liegenschaftsbewertung, Liegenschaftskataster, Liegenschaftsmapping? - transparente Werkzeuge der Liegenschaftspolitik, für Verwaltung und Zivilgesellschaft ?
16:30 Forum III: Erbbaurecht – Eigentum neugedacht - Nutzungskonzepte und nachhaltiges Haushalten langfristig sichern?
19:30 Podiumsdiskussion: Die Soziale Stadt gestalten
Programm im Detail – klicken Sie bitte hier
Konzept: Jürgen Breiter, Corinne Rose und Florian Schmidt
Umsetzung: URBANITAS Berlin Barcelona
Bild: by openBerlin
Related events
ähnliche Veranstaltungen