Talk
Wednesday, July 4, 2012, 5 pm–6:30 pm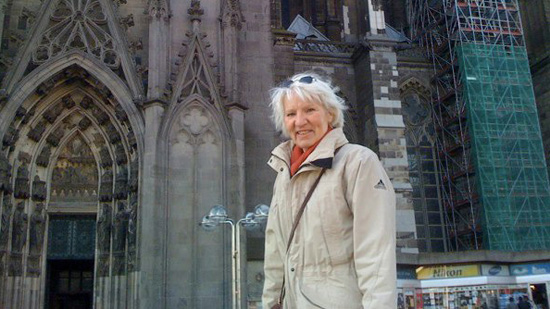 For sixteen years, Heidemarie Schwermer has lived without money, without her own apartment, and with only a few possessions, just by sharing. This evening, she will host a "Give-and-Take Table" accompanied by conversation. Consider new ways of living and start implementing some first steps on-site.
Come and share! Everyone has something to offer, whether it is a skill, time, experience, or objects that are in good shape but unused by their owner, and that may be needed or liked by someone else.
Heidemarie Schwermer was born on January 14, 1942, in Memel (today Klaipeda, Lithuania) and had to leave her home country at a very young age. Arriving in the west as a refugee without possessions was an experience that shaped her worldview.
Early in her life, she began to think about the inequality and injustice in the world and to search for new modes of living. She started working as a teacher and later became a motion pedagogue and a gestalt psychotherapist. In 1994, she founded the "Give-and-Take Center" in Dortmund, one of the first swap circles in Germany.
This program is in German with English translation.
Photo: by Line Halvorsen
Seit 16 Jahren lebt Heidemarie Schwermer ohne Geld, ohne ihre eigene Wohnung und mit nur wenig Eigentum einfach vom Teilen. An diesem Abend wird sie einen gesprächsbegleitenden "Gib-und-Nimm Tisch" moderieren. Überdenken Sie neue Lebenswege und beginnen Sie einige erste Schritte vor Ort umzusetzen.
Kommen und teilen Sie! Jeder hat etwas zu bieten, ganz gleich ob es eine Fähigkeit, Zeit, Erfahrung, oder Dinge sind, die in guter Verfassung jedoch vom Eigentümer unbenutzt sind, und was von jemand anderem gebraucht oder gemocht werden könnte.
Heidemarie Schwermer wurde am 14. Januar 1942 in Memel (heute Klaipeda, Litauen) geboren und musste ihr Heimatland in sehr jungen Jahren verlassen. Im Westen als Flüchtling ohne Habe angekommen war eine Erfahrung, die ihre Weltanschauung geprägt hat.
Sie begann früh über Ungleichheit und Ungerechtigkeit in der Welt nachzudenken und nach neuen Lebensmodellen zu suchen. Sie begann als Lehrerein zu arbeiten und wurde später Motopädin und Gestalt Psychotherapeutin. 1994 gründete sie mit der "Gib und Nimm-Zentrale" in Dortmund eine der ersten Tauschbörsen in Deutschland.
Diese Veranstaltung findet in deutscher Sprache mit englischer Übersetzung statt.
Foto: von Line Halvorsen
Related events
ähnliche Veranstaltungen