Talk
Saturday, July 14, 2012, 12:15 pm–1:30 pm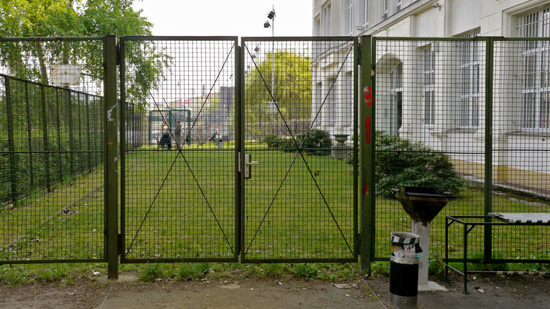 Participate in this lecture and workshop about Corinne Rose's project, Make Space/Räume schaffen—a project for neighborhood gardens. The project develops and implements a blog and a tutorial about the realization of a neighborhood garden. It describes and documents the transformation of unused spaces. These neglected rooftops, yards, gardens, parking levels, and terraces all have the potential to become spaces of encounter. They can transform into spaces of interaction and communication among neighbors.
This program is in German.
Photo: by Sebastian Wagner
Alle Bürger, Mieter, Wohnungsgesellschaften, alle, die gerne einen Nachbarschaftsgarten hätten und alle die bereits einen Garten haben und ihr Wissen gerne teilen - wir laden euch ein, eure Fragen zu einem Nachbarschaftsgarten mitzubringen und gemeinsam Antworten zu finden und Ideen für mehr grüne Nachbarschaften zu schmieden!
Und um einen Anfang für euren Garten zu finden, topfen wir die erste Pflanze, zum Mitnehmen, gemeinsam ein.
Das Projekt "Make Space - Räume schaffen – ein Projekt für Nachbarschaftsgärten" haben Labteam-Mitglied Corinne Rose, das Leibniz-Zentrum für Agrarlandschaftsforschung (ZALF e.V.) und Sebastian Wagner ins Leben gerufen. Das Projektteam gestaltet in einer Berliner Nachbarschaft gemeinsam mit den Bewohnern einen nachhaltigen Nachbarschaftsgartengarten. Begleitet wird diese Aktion durch einen Blog, der im Laufe des Prozesses zu einem Leitfaden heranwächst. Er soll anleiten, wie ungenutzte gebäudegebundene Flächen zu nachhaltigen Nachbarschaftsgärten umgestaltet werden können. Dächer, Höfe, Gärten, Parkdecks und Terrassen können zu grünen Orten der Begegnung für Nachbarschaften werden - zu Orten der Kommunikation und des gemeinsamen Gärtnerns.
Foto: by Sebastian Wagner
Related events
ähnliche Veranstaltungen