Tour
Thursday, June 28, 2012, 3 pm–7 pm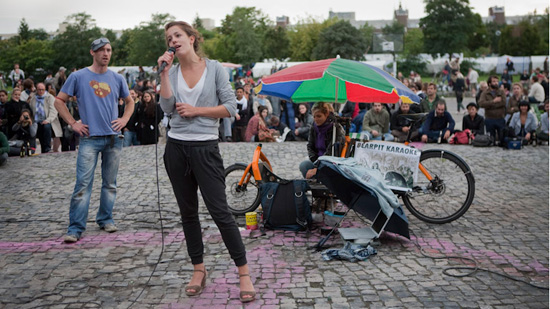 As part of today's Transforming Parking Spaces event, Music on the Move is a musical bike ride led by Joe Hatchiban that takes place in and around Berlin. Both human- and battery-powered, this rolling karaoke party takes a mobile sound system, loads it on a cargo bike, and rides at random around town in search of interesting places (and people) to sing. The project explores and highlights the unsurpassed freedom of movement that a bike provides and the way music can create an instant connection between strangers.
Joe Hatchiban has worked as a bike messenger for more than ten years in Dublin, New York, and Berlin. Since 2009, he has been helping people unleash their inner Rampensau via spontaneous outdoor mobile karaoke shows in the German capital. His Bearpit Karaoke in Prenzlauer Berg's Mauerpark is a Sunday afternoon port of call for thousands of Berlin dwellers and visitors to the city.
This program is in German and English.
Photo: by Chiara Dazi
Unter dem heutigen Tagesthema "Raum für alle" erkunden wir, wie öffentlicher Straßenraum genutzt wird und aktiv und gemeinschaftlich umgenutzt werden könnte. Als Teil dieser Erkundung löst Joe Hatchiban seine berühmt-berüchtigte Karaokeparty aus der gewohnten Umgebung im Mauerpark und zieht mit ihr – Mensch- und Batteriebetrieben - auf dem Lastenrad durch Berlin, immer auf der Suche nach interessanten Orten (und Menschen). Das Projekt möchte hervorheben, wie mit einfachen Mitteln, hier der Musik, eine unmittelbare Verbindung zwischen Fremden geschaffen und öffentlicher Raum aktiviert werden kann.
Joe Hatchiban arbeitete über zehn Jahre als Fahrradkurier in Dublin, New York und Berlin. Seit 2009 hilft er Menschen in der deutschen Hauptstadt, ihre innere Rampensau durch spontane Freiluftkaraoke zu entfesseln. Sein Bearpit Karaoke im Mauerpark, Prenzlauer Berg, am Sonntagnachmittag ist eine Attraktion für Tausende Berliner und Besucher der Stadt.
Foto: von Chiara Dazi
Related events
ähnliche Veranstaltungen