Film
Wednesday, July 4, 2012, 8 pm–10 pm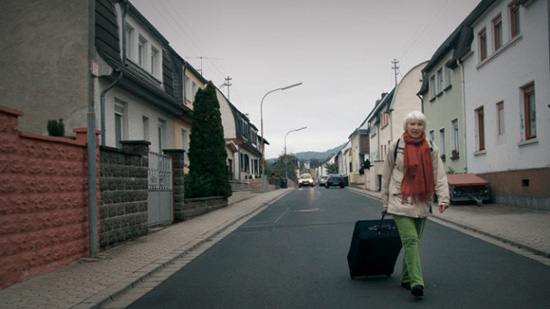 Living Without Money (Line Halvorsen, Norway/Italy, 2010, 52 min.)
Can you imagine giving away all your belongings? Heidemarie Schwermer, a former teacher and therapist from Germany, decided one day to change her life, and gave away everything she owned. Today, fourteen years later, she still lives a life without money. The film portrays Heidemarie's everyday life, how she finds food and places to stay, and shows how the people she encounters react to the choices she has made.
Followed by a Q&A with Heidemarie Schwermer.
This program is in German.
Photo: courtesy Line Halvorsen
Living Without Money (Line Halvorsen, Norwegen/Italien, 2010, 52 min)
Können Sie sich vorstellen, Ihr gesamtes Hab und Gut von heute auf morgen wegzugeben? Heidemarie Schwermer, eine ehemalige Lehrerin und Therapeutin, entschied sich eines Tages, ihr bisheriges Leben mit all seinen Verpflichtungen hinter sich zu lassen und alles aufzugeben, was sie jemals besessen hatte. Heute, vierzehn Jahre später, führt sie noch immer ein Leben ohne Geld.
Der Film gewährt Einblicke in Heidemaries Alltag, wie sie sich versorgt, an welchen Orten sie verweilt und wie die Menschen, denen sie begegnet, ihr und ihrem Lebenskonzept begegnen.
Im Anschluss: Filmgespräch mit Heidemarie Schwermer.
Diese Veranstaltung findet in deutscher Sprache statt.
Foto: courtesy Line Halvorsen
Related events
ähnliche Veranstaltungen