Talk
Sunday, July 8, 2012, 4 pm–8 pm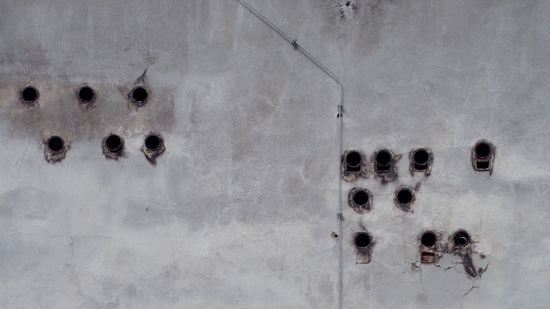 Why do we experience one thing as beautiful and another as unsightly? How do culture and social environment influence these emotions and perceptions? Why do we prefer certain streets or places and avoid others?
The image of cities is increasingly getting polished as a sign of success and progress. Public spaces need to become cleaner, safer, and more beautiful. But who profits from these strategies of making cities more attractive? And who decides what is meant by "clean and beautiful" and "dirty and ugly?" The aesthetic cleansing of urban public space often leads to displacement and exclusion. Inner cities are on the verge of becoming exclusive, feel-good spaces, while everything that is disruptive or allegedly ugly is being driven out to the city periphery.
Through a series of lectures followed by a panel discussion, we will explore first what aesthetics, beauty, and unsightliness mean for individuals from a psychological standpoint; then, what they signify for the city, urbanity, and the discourse surrounding them; and lastly, how to look at it all from a philosophical perspective.
Speakers will include:
Helmut Leder, Head of the Institute for Contemporary Art Research, Zurich University of the Arts, will address the value of ugliness for the discourse of urbanity: Berlin is ugly, and it is good that way.
Wolfgang Welsch, Friedrich-Schiller-Universität Jena, will address the topic, Places for people? Changing perspective, and new ways of aesthetics.
This program is in German.
Photo: by Lena Grass, 2012
16 – 18 Uhr Vorträge
18 – 20 Uhr Diskussion
Warum empfinden Menschen Dinge als schön oder hässlich? Wie beeinflussen Kultur und soziales Umfeld diese Empfindungen? Wie kommt es dazu, dass wir einen Straßenzug einem anderen Straßenzug gegenüber bevorzugen?
Weltweit stehen die Städte heutzutage im gegenseitigen Wettbewerb. Im Zuge der Neoliberalisierung werden die City-Images aufpoliert. Die öffentlichen Räume müssen sauberer, sicherer und schöner werden. Doch wer profitiert von diesen Verschönerungs- und Attraktivierungsstrategien? Die ästhetische Säuberung der urbanen öffentlichen Räume führt häufig zu Verdrängung und Exklusion. Denn, wer entscheidet, was sauber und schön, was schmutzig und hässlich ist? Die Innenstädte drohen zu exklusiven Wohlfühlräumen zu werden, während alles Störende und vermeintlich Hässliche an die Ränder der Städte verdrängt wird. (Juergen Krusche)
In drei Vorträgen und einer nachfolgenden Podiumsdiskussion erkunden wir, was Ästhetik und Schönheit, aber auch Hässlichkeit - erstens aus psychologischer Sicht bedeuten und zweitens aus kulturwissenschaftlicher und drittens aus philosophischer Sicht - für Städte, Urbanität und den Diskurs über sie.
Die Vortragenden sind:
Psychologische Ästhetik: Univ-Prof. Dipl. Psych. Dr. Helmut Leder, Head of the Department of Psychological Basic Research, University of Vienna, aesthetics.univie.ac.at/mission-statement/
Berlin ist hässlich – und das ist gut so. Der Wert des Hässlichen für den Urbanitätsdiskurs: Jürgen Krusche, Institut für Gegenwartskunst, Zürcher Hochschule der Künste, http://public-city.zhdk.ch
Immer nur der Mensch?: Prof. Dr. Wolfgang Welsch, Friedrich-Schiller-Universität Jena, http://www2.uni-jena.de/welsch/
Zusätzliche Diskussionsteilnehmer sind:
Hans Stimmann (ehemaliger Senatsbaudirektor)
Theo Winters (S.T.E.R.N. Gesellschaft für behutsame Stadterneuerung m.b.H.)
Christian Schöningh (Architekt)
Claus Anderhalten (Architekt, Baukollegium Berlin)
Moderation: Johanna Schlaack und Aljoscha Hofmann (Team Think Berl!n)
Related events
ähnliche Veranstaltungen