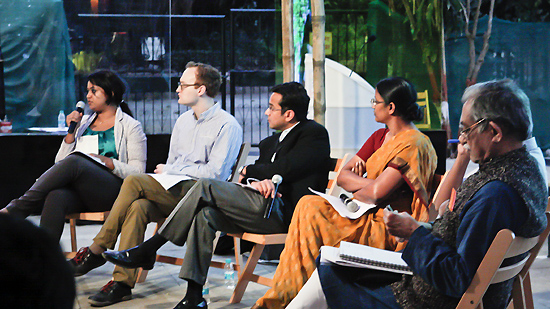 The Mumbai Municipal Corporation is working toward framing its twenty-year development plan in 2014. Writing the plan is a challenging process for everybody involved. Some believe that two decades is far too long a period to plan for a city as dynamic as Mumbai. Others suggest the city could evolve a process that is far more collaborative, tapping the knowledge and desires of residents of Mumbai's various neighborhoods to make the plans even more democratic. In this event, hear experts explain their vision of collaborative planning and how it can be achieved.
Program series initiated by Lab Team Member Neville Mars. Hosted and facilitated by Naresh Fernandes and Sourav Biswas.
Participants: Aneerudha Paul, Principal, KRVIA; Prathima Manohar, Founder, Urban Vision; Sam Lockwood, digital strategies consultant; Henk Ovink, Deputy Director General Spatial Planning, Ministry for Infrastructure and the Environment, Netherlands; Shirish Patel, Planner, IIHS; Pankaj Joshi, Executive Director, UDRI; Uma Adusumilli, Chief Planner, MMRDA.
This event was conducted in English.
Photo: UnCommonSense
Related events