Workshop
Saturday, June 23, 2012, 4 pm–6 pm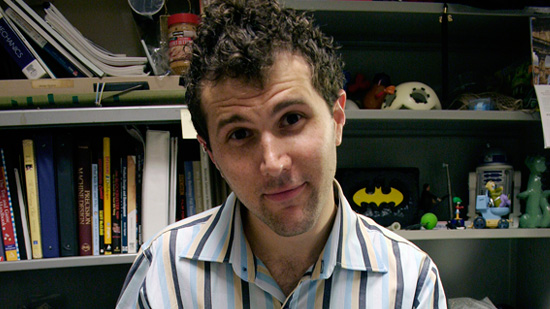 Where do good ideas come from? Discover how to generate ideas through games with toy designer Barry Kudrowitz. In a series of team games based on improvisational comedy training, activate the parts of your brain associated with innovation and build specific skills related to prolific idea generation. These games encourage group collaboration, rapid association, and problem solving.
Barry Kudrowitz is an assistant professor of product design at the University of Minnesota. He received his PhD from the Mechanical Engineering Department at the Massachusetts Institute of Technology (MIT), studying humor, creativity, and idea generation. Kudrowitz co-designed a Nerf toy, an elevator simulator that is in operation at the International Spy Museum in Washington, D.C., and a ketchup-dispensing robot that was featured on the Martha Stewart Show.
This program is in English with German translation.
Photo: by Lexi Winter
Wo kommen gute Ideen her? Erfahren Sie vom Spielzeugdesigner Barry Kudrowitz, wie neue Ideen spielerisch entwickelt werden können. In einer Reihe von Gruppenspielen, die auf Improvisationsübungen aus dem Comedybereich basieren, werden die Bereiche des Gehirns aktiviert, die mit Innovation in Verbindung gebracht werden. So werden spezifische Fähigkeiten zur Entwicklung neuer Ideen geschult. Die Spiele fördern die Zusammenarbeit in der Gruppe, schnelle Assoziation und Problemlösungskompetenzen.
Barry Kudrowitz ist Dozent für Produktdesign an der University of Minnesota. Er erwarb am Massachusetts Institute of Technology (MIT) im Bereich Mechanical Engineering einen Doktortitel (PhD) und hat sich auf Humorforschung, Kreativität und Ideenentwicklung spezialisiert. Kudrowitz entwarf mit an einem Nerf Spielzeug, an einem Aufzugssimulator der im International Spy Museum in Washington D.C. in Betrieb ist und an einem ketchup-spendenden Roboter, der in der Martha Steward Show gezeigt wurde.
Die Veranstaltung findet in englischer Sprache mit deutscher Übersetzung statt.
Foto: von Lexi Winter
Related events
ähnliche Veranstaltungen