Talk
Thursday, July 12, 2012, 2 pm–2:15 pm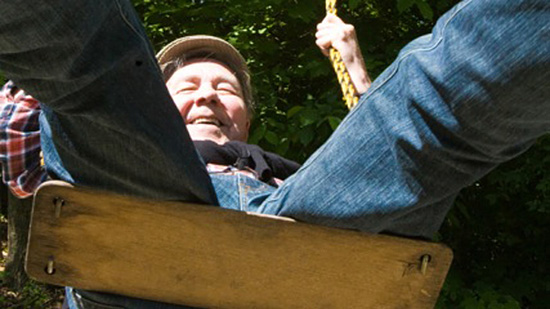 Lab Team member Corinne Rose introduces the topic of the day: Age. Today 20 percent of the population is older than 65; in 2060 every third person will have reached that age. The effect of the aging population on the urban environment and on social services is one of the most significant global challenges—and opportunities—of the next 50 years. How can we take advantage of the wisdom of past experience? Discover a range of innovative projects, community initiatives, and public services designed to meet this growing need.
This program is in German.
Photo: by Corinne Rose
Lab-Mitglied Corinne Rose stellt das Thema des Tages vor: Alter. Heute sind 20 Prozent der Bevölkerung älter als 65 Jahre; im Jahr 2060 wird jeder Dritte dieses Alter erreicht haben. Die Auswirkungen einer alternden Bevölkerung im urbanen Umfeld und auf soziale Dienstleistungen sind eine der wichtigsten weltweiten Herausforderungen und Chancen der nächsten 50 Jahre. Wie können wir vergangene Erfahrungen als potential nutzen? Entdecken Sie eine Reihe innovativer Projekte, Initiativen der verschiedenen Viertel und öffentlicher Einrichtungen, die diesen wachsenden Bedarf in ihr Konzept integrieren.
Diese Veranstaltung findet in deutscher Sprache statt.
Foto: von Corinne Rose
Related events
ähnliche Veranstaltungen