Talk
Sunday, June 17, 2012, 12 pm–12:15 pm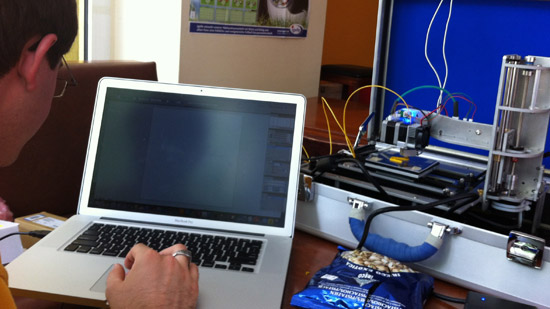 Lab Team member José Gómez-Márquez introduces the topic of the day: Making Things Digital. New digital technologies like microcontrollers, intelligent sensors, and open-source software have revolutionized the way we make things. Today we look at the practical and conceptual implications of widespread digitization and how we can use intelligent devices in our everyday lives.
This program is in English with German translation.
Photo: courtesy Little Devices Group, 2011
Lab-Teammitglied José Gómez-Márquez stellt das Thema des Tages vor: Making Things Digital. Neue digitale Technologien wie Mikrocontroller, intelligente Sensoren und Open-Source-Software haben unseren Alltag revolutioniert. Heute untersuchen wir die praktischen und konzeptuellen Implikationen einer weitverbreiteten Digitalisierung und denken darüber nach, wie wir intelligente Geräte im Alltag nutzen können.
Die Veranstaltung findet in englischer Sprache mit deutscher Übersetzung statt.
Foto: mit freundlicher Genehmigung von Little Devices Group, 2011
Related events
ähnliche Veranstaltungen