Event
Wednesday, July 4, 2012, 6:30 pm–10 pm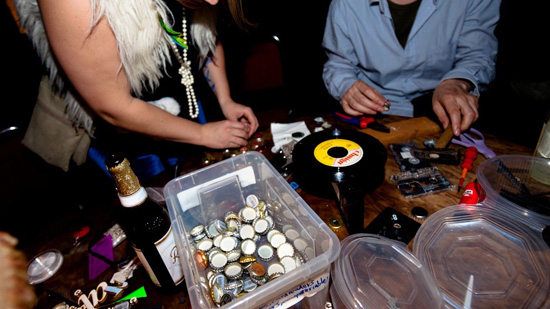 On this earth, there is enough to feed, house and clothe all human beings. The problem is that not everyone has enough money to buy what they need. What we all do have is time and knowledge. Join us for an evening of sharing.
Swap Shop is a marketplace where no money is used. The visitors can exchange their own items, time or knowledge in order to get other items, people's time, or knowledge. There are no prices—customers estimate the value of their desired items themselves.
Swap Shop is not a workshop, nor is it just another shop. It does not invite you to run inside and grab unnecessary things just because it is fun. It does offer you an experience in alternative shopping and invites you to estimate the actual value of things you share.
Kulturlabor Trial & Error e. V. is a Berlin-based, non-profit organization working with crafts, DIY culture, sustainability, arts, and media. Since 2010, Trial & Error has been working with local communities, developing international partnerships and networking in the field of upcycling in order to promote the idea of sustainable social networks, responsibility towards the environment, and usage of materials, as well as creative activism.
This program is in English and German.
Photo: courtesy Kulturlabor Trial & Error
Auf dieser Welt gibt es genug zum Essen, zum Wohnen und Kleidung für alle Menschen. Das Problem ist, dass nicht jeder genug Geld hat, um sich das zu kaufen, was er braucht. Was wir alle haben, ist Zeit und Wissen. Begleiten Sie uns an einem Abend des Teilens.
Swap Shop ist ein Markt auf dem kein Geld benutzt wird. Der Besucher kann seine eigenen Artikel, seine Zeit oder sein Wissen eintauschen, um andere Artikel, anderer Leute Zeit oder Wissen zu bekommen. Es gibt keine Preise – Kunden schätzen den Wert ihres erwünschten Artikels selbst.
Swap Shop ist weder ein Workshop noch ist es einfach ein weitere Shop. Er lädt Sie nicht ein hineinzulaufen und unwichtige Dinge einfach so aus Spaß zu greifen. Er bietet Ihnen hingegen eine alternative Einkaufserfahrung und lädt Sie dazu ein, den wahren Wert von Tauschwaren zu schätzen.
Kulturlabor Trial & Error e.V. ist ein gemeinnütziger Verein mit Sitz in Berlin, der seit 2010 mit Handarbeit, DIY (Do It Yourself) Kultur, Nachhaltigkeit, Kunst und Medien arbeitet. Trial & Error arbeitet zusammen mit lokalen Gemeinschaften und entwickelt dabei internationale Partnerschaften und Netzwerke im Bereich des Upcylings, um Ideen für nachhaltige soziale Netzwerke, Verantwortung gegenüber der Umwelt und dem Einsatz von Materialien sowie kreativen Aktionismus zu fördern.
Diese Veranstaltung findet in Englisch und Deutsch statt.
Foto: Courtesy Kulturlabor Trial & Error
Related events
ähnliche Veranstaltungen