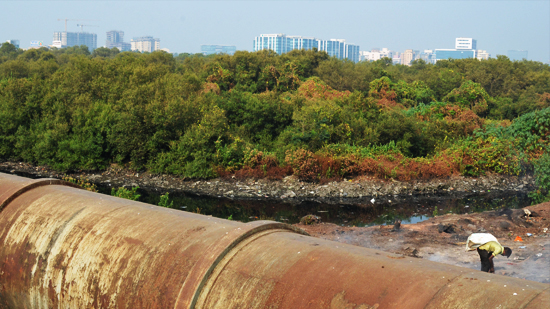 Even a casual visitor can see that Mumbai's public utilities are overstretched. This event, which will include a panel discussion and interactive session, will consider how private entities and public organizations can work together to solve problems and deliver services in order for Mumbai to become more comfortable and sustainable. As a backdrop, we will analyze a pilot project for water privatization in K East ward, as well as the lessons learned from electricity privatization in Mumbai.
Program series initiated by Lab Team Member Neville Mars. Hosted and facilitated by Naresh Fernandes and Sourav Biswas.
Participants: Darryl D'Monte, Chairperson, Forum of Environmental Journalists of India; Sudhakar S. Kini, Chief Architect, Sulabh Shauchalay Mumbai; Neera Adarkar, Architect & Urban Researcher, Adarkar's Associate; Janak Daftary, Founder, Jal Sangrah; Francine Houben, Partner, Mecanoo Architects; Ganapathy PG, Director, Ecofirst Advisory Services; Vikram Pawar, Trustee, SPROUTS Environmental Trust.
This event will be conducted in English.
Photo: courtesy Sourav Biswas
Related events